RV Texas Y'all Podcast Episode 000
Listen Here!
Audio: RV Texas Y'all Podcast Trailer
Published January 11, 2021
If you cannot see the audio player just above this sentence, click on this link to play the episode.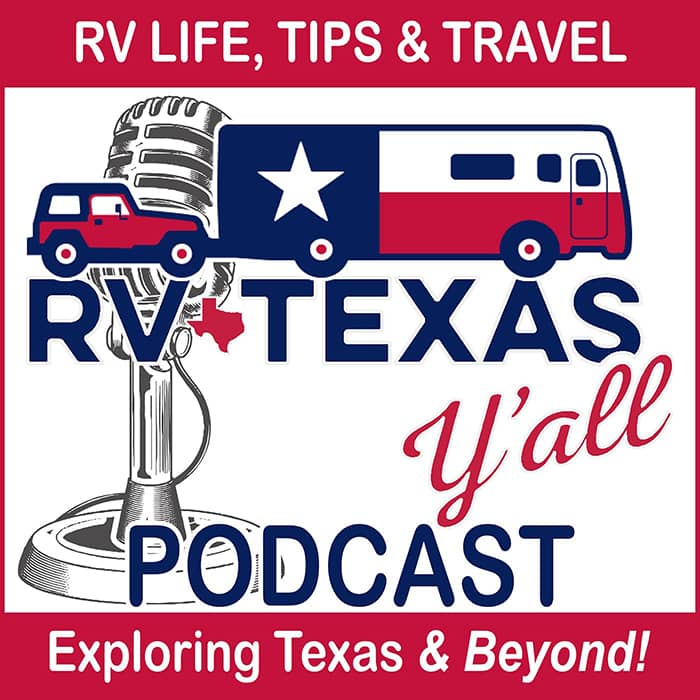 In This Episode
In this episode, we introduce you to our new podcast and share what you can expect when you subscribe!
We'll be listed soon on Apple Podcasts, Google Podcasts, Spotify and all of the other podcast directories, so keep checking with your favorite to see if we're showing up. In the meantime, you can always listen here on our website.
Subscribe to our Newsletter for weekly updates on new content and other interesting stuff!
What Is A Podcast?
According to Merriam-Webster, a podcast is a program (as of music or talk) made available in digital format for automatic download over the Internet.
Think of it like a radio program that you can subscribe to. Today, there are published podcasts for just about every subject imagineable.
We like to listen to podcasts while we are traveling. Some folks like to listen to podcasts when they are commuting, working, working out or cooking. Any time you would like content, but cannot watch a video or look at a website, is a good time to listen to a podcast.
How Do You Listen To A Podcast?
There are a lot of podcast apps available for listening from your smart phone or mobile device. A few of the popular ones include:
And, again, you can always listen directly from our website. New episodes will be published on our Podcast Page.
Best Podcasts About RVing
We hope to be among the best. But here are a few others that we enjoy listening to:
Other Podcasts We Enjoy
Wise About Texas
The best podcast for Texas history! Judge Ken Wise brings stories to life and shares related historical sites you can visit.
Last Seen
Something completely different! This 10 episode podcast from 2018 walks you through a cold case unsolved art heist in Boston.
The Way I Heard It
TV's Mike Rowe hosts this podcast. We love the tagline: "All good stories have a twist, and all great storytellers are just a little bit twisted."