Goliad, Texas - South Texas Region
Texas Tidbits: The Man Behind Cinco de Mayo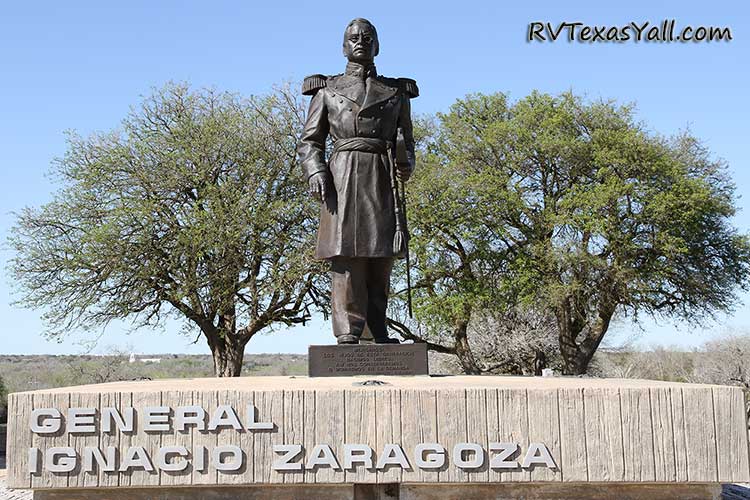 Statue of General Ignacio Zaragoza
Why do we celebrate Cinco de Mayo?
Well, believe it or not, the story of the Cinco de Mayo holiday began in the early 19th century in Goliad, Texas!
General Ignacio Seguin Zaragoza was born in a house just outside the walls of Presidio La Bahia in 1829 (the same year that his community changed its name from La Bahia to Goliad). His father was a soldier at the presidio, and it was very common for children to spend their entire lives in the military community. Boys became soldiers and girls married soldiers. Ignacio Zaragoza was no exception to this rule.
In the 1850s, he participated in Mexico's first serious attempt to establish a democracy and fought against Santa Anna. He was appointed Minister of War and Navy in 1861. But later that year, Mexican leader Benito Juarez "declared a moratorium on Mexico's European debts", and Zaragoza's country soon found itself under attack from Spanish, French and English forces.
Around the time that the English and Spanish were withdrawing from Mexico in 1862, Ignacio Zaragoza gave up his ministry position and returned to the Army. And on May 5, 1862 General Zaragoza's approximately 4,000 Mexican troops successfully protected Puebla from Napolean Bonaparte's army which was double in size. Mexican casualties on that day were recorded at 86, while the French losses were somewhere between 476 and 1,000 men.
Though the battle between Mexico and France did not end on that day, it is believed that the outcome of the Battle of Puebla on May 5, 1862 had a direct effect both on France's willingness to pursue Mexican territories, and the confidence and spirit of the Mexican people to defend their land. Just a few months later, on September 8, 1862, General Ignacio Zaragoza died of typhoid fever. Three days later, President Juarez made Cinco de Mayo a national holiday.
Today, you can visit General Ignacio Zaragoza's birthplace and the statue placed in his honor next to Presidio La Bahia in Goliad, Texas. And next time you raise that margarita on Cinco de Mayo, remember that you have General Ignacio Seguin Zaragosa of Goliad, Texas to thank!
ALSO IN THE AREA: South Texas
IF YOU LIKE THIS POST, CHECK OUT: Write-Ups on Other Historical Sites in Texas
Subscribe To Our Newsletter to stay connected and receive an email with our latest posts and updates!
Safe Travels and Happy Camping!