RV Classification: Fifth Wheel
If you have been with us for a while, then you know it's been quite a while since we have posted an RV tour. But while we were at the Houston RV Show last weekend, we came across a new RV from a brand new RV manufacturer that really stood out for us. We were really impressed by what we saw in the Alliance RV Paradigm Fifth Wheel.
After looking through the Paradigm at the show with our friend Joe from Ron Hoover RV and Marine, and Jeremiah Dumka, General Manager of Alliance RV, we knew we had to share it with you. Time will tell how the Alliance RV products stand up to travel. But at first glance, we were really impressed by what we saw and heard. So, a few days later we took a day trip to Katy, Texas so that Joe could take us all along on a tour of the Alliance RV Paradigm 310RL. Be sure to watch the video below for our full walk-through. As we sit here today, we believe that Alliance RV could be the next big thing in the fifth wheel market!
Watch Our Full Walk Thru of a New Alliance RV Paradigm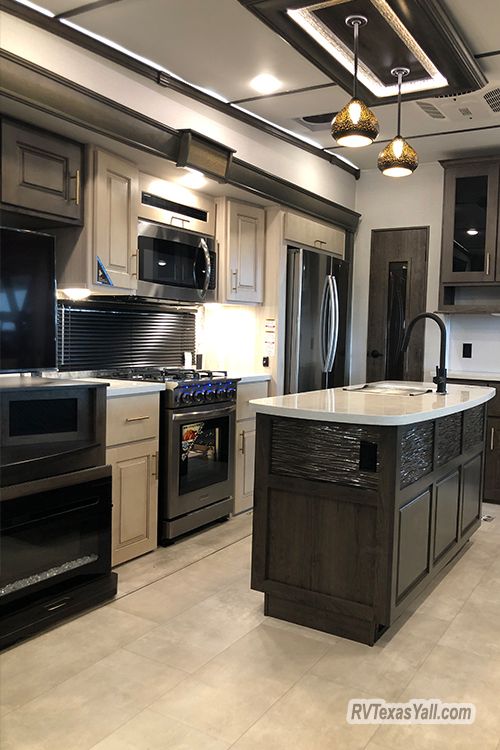 Alliance RV Paradigm 310RL Kitchen
What We Liked Most About the Alliance RV Paradigm:
There is so much that stood out to us about the Paradigm. We like the story about the young company asking for input from the RVing community and putting the responses into their product. We appreciate Joe's insight into Alliance RV's multiple PDIs (pre-delivery inspections) and how his staff did not have to make any repairs to the two units he received before putting them on display at the Houston RV Show. During our walk-through at the show and also at the dealership after the show, we did not see any issues with the unit we toured.
I don't think we've ever had a dealership tell us we should look at a unit that they don't sell. But that actually happened with the Alliance RV Paradigm. We knew to look for it at the Houston RV Show because of another friend of ours from another dealership. When we asked him what was new and exciting in this year's show, he said, "You have to see the Alliance RV 5th wheel!". That, to us, says a lot about what the folks at Alliance RV are doing and the respect they are quickly building within the industry.
What Else Really Stood Out to Us About the Alliance RV Paradigm:
Some of our top "Wow" moments came from...
Their creative use of space for storage (even behind the fireplace).
The 4-burner cooktop and large oven.
The strong hanging rack in the closet.
The idea that you can run 2 of the 3 air conditioners on 30-amp power.
The upgraded suspension, springs and axles.
The ability to shut off water to specific areas of the rig if necessary.
The location of the sewer valves within a heated bay and not under a slide. They are really easy to access.
We also really appreciate that they have a clearly marked, color-coded system for tank filling, city water operation, tank sanitizing, dry camping and winterizing.
The shower in the 34'11" unit we toured for the video is BIG! (Did you notice that Tom and Joe were standing in the shower together? LOL)
We loved all of the huge windows on the camping side!
The recliners sit directly across from the TV and fireplace and are not blocked by the kitchen island.
We appreciate that Alliance RV says that they warranty the Paradigm for full-time RV living.
And finally, the size! Big rigs are nice for interior space, but we're real fans of more compact units that maximize your camping options in state and national parks.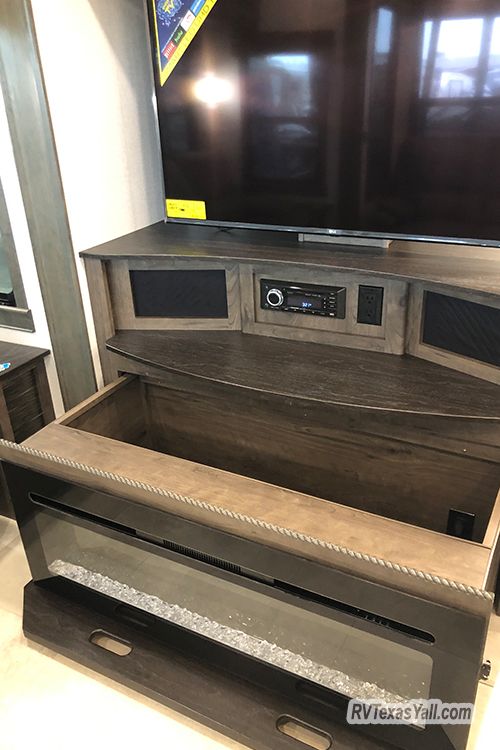 Alliance RV Fireplace Storage
Alliance RV Paradigm 310RL Specs:
Length: 34'11"
Dry Weight: 12,175 pounds
Gross Vehicle Weight Rating (GVWR): 15,000
Cargo Capacity: 2,725 pounds*
Hitch Weight: 2,530 pounds
Fresh Water Tank: 98 gallons
Gray Water Tank: 106 gallons
Black Water Tank: 53 gallons
* Your available cargo capacity is going to depend on your individual unit, including the options you select. Always be sure to weigh your RV to make sure that you are properly loaded and not overloaded! Safety first!
More Information on the Alliance RV Paradigm:
Alliance RV is a new family-owned RV manufacturer in Elkhart, Indiana. They opened their state-of-the-art production facility and began building fifth wheels in January 2020. As we write this, they are currently producing 5 floorplans of the Paradigm ranging from 34'11" long to 40'7" long.
Thank you to our friend, Joe French, at Ron Hoover RV and Marine in Katy, Texas for taking the time to take us on this tour and share his thoughts and insights on this new fifth wheel. If you have more questions on the Alliance RV Paradigm and for current pricing, please contact Joe at 281.829.1560.