300W Portable Power Station Product Review:
This post contains affiliate links. Please see our disclosure for more information.
One of the things we absolutely love about RV life is that today's technology allows us to work from our campsite. We feel much more creative, relaxed and productive when we are sitting outside listening to the birds as we work. To prolong our ability to work outside, we've been known to run an extension cord from the basement of our RV to power our computers. But then we have to worry about tripping over the cord.
We've been considering a portable power station for a while, and the folks at Suaoki were nice enough to send us their S370 Portable Power Station to review.
Suaoki S370 Details
The Suaoki S370 is a 300Watt (322Wh) Portable Power Station that weighs in at just over 7 pounds. The dimensions are approximately 10"x6"x6". It can be charged by solar panels, 120V AC plug, a car plug while driving, or via a USB-C connection. The unit takes approximately 5-7 hours to fully charge.
To test the S370, we first plugged it into our Rockpals 100Watt Foldable Solar Panels. Even though it was a very overcast day when we were filming, the Suaoki began charging right away. We completed the charge using a standard 120V AC plug.
The Suaoki features a Lithium Ion battery with a reported lifespan of 500 recharges or more. It makes zero noise when operating and stays cool to the touch unless sitting in direct sunlight.
Suaoki says you should not try to charge the power station while you have devices plugged into it. So only plan to use the outputs when the system is charged up.
The S370 has 14 output connections! The outputs include 4 DC 12Volt connections, 4 USB connections, 1 USB-C connection, 1 Car Plug connection, and 4 AC 120Volt connections. It supports USB 1, 2, 3 and 4. Multiple devices can be plugged in to charge simultaneously. All output ports except for the AC plugs are live when the power is turned on. To activate the AC plugs, push the AC button to turn on the Pure Sine Wave Inverter within the station.
What Can You Power With the Suaoki S370?
We have operated the power station with devices plugged into the AC ports, USB-C port, Car Port and USB ports all at the same time.
We have personally used it to charge our MacBook Pros, iPad, iPhones, Camera Batteries, RV GPS and Data Hotspot.
As far as time, we have had a MacBook Pro, iPad and iPhone charging simultaneously on the S370 for about 4 hours.
Suaoki reports that you can use the S370 to operate a CPAP machine for 16 hours. We don't have CPAP machines, so we weren't able to test this. Sounds like this could help open up the world of boondocking to folks who use CPAP machines, though!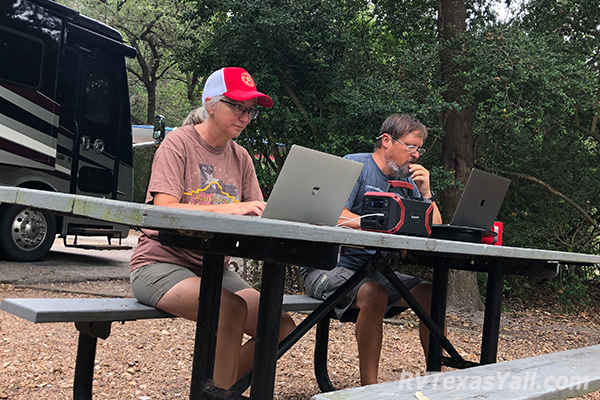 Working Outdoors Powered By the Suaoki S370
Other Features of the Suaoki S370 Portable Power Station
Other features of the Suaoki S370 include an attached carrying handle that folds down when not in use and 2 emergency lights that can flash the signal for SOS if needed. The S370 houses an internal fan to cool its components, as well as its own battery managment system and solar charge controller.
We have used the Suaoki S370 to power multiple devices for hours. The LED display makes it easy to see how much battery life remains available in the unit at all times.
So What Do We Think?
In our opinion, this little portable power station is great for RVers, tent campers, car campers, tailgaters and anyone who wants a small, lightweight, portable back-up power supply that provides more power than the handheld battery packs. It would also be a great piece of equipment for anyone who faces potential power outages during storm season.
We plan to use it for working outside at the campgrounds without having to run an extension cord. We'll also take it with us to power our data hotspot and MacBook while seeking out data signals to upload videos or web updates from the Jeep. And we could use it to recharge our camera batteries when we're out for a day of filming.
And then there's the fact that it gives us extra power supply when we are boondocking. We absolutely LOVE that we can recharge this power station with our foldable solar panels. Let's just say we're very excited to add this little workhorse to our equipment!
Our only disappointment on this unit is that we can't really tell when it is fully charged. The battery icon on the display will show as full, but it's not clear to us if the charging is complete or if it is finishing the last 20% of recharge. But, even beginning at what the display says is 80%, we have several hours of charging time for our devices.
Several Models of the Suaoki Portable Power Station are Available on Amazon:
Suaoki S370 Portable Power Station (like we have)
SAVE $20: Follow our link for the S370 and Scroll down on the Amazon Page to clip a $20 off coupon!
Suaoki S270 Portable Power Station
Suaoki S200 Portable Power Station
The RockPals Solar Panel Charger is also Available on Amazon:
Rockpals 100Watt Foldable Solar Panels (like we have)
Rockpals 60Watt Foldable Solar Panels