Our Experience With Our Blue Ox Tow Bar System:
Video: Blue Ox Tow Bar System 5 Year Product Review
This post contains affiliate links. Please see our disclosure for more information.
We have had several folks ask us about the type of tow bar system we use to pull our Jeep behind our motorhome. There are a lot of options on the market for towing and selecting the right system can be overwhelming. We thought we would share our experience with our Blue Ox tow bar system. This is not a paid endorsement. We have no connection with Blue Ox. But we have owned our Blue Ox towing system since 2013. The following write-up and the above video is based on our experience with the system over 5 years. We are including our Amazon affiliate links to some of the Blue Ox tow products if you would like to learn more information about the product.
Why We Bought the Blue Ox Tow Bar System
We wanted to pull our fun vehicle (a 1999 Jeep Wrangler) behind our motorhome. The dealership we hired to install our tow system recommended Blue Ox. It seemed good, so we went with it. That's really about it. But, in hindsite, we are very thankful for their recommendation. We know there are other good tow bars out there, but we have been extremely pleased with our Blue Ox system. The investment we made in our system in 2013 seems like a "no-brainer" now.
What We Like About Our Blue Ox
It's Quick and Easy to Use We leave our Blue Ox on the back of our motorhome 95% of the time so it's always ready when we need it. All we have to do is pull the RV out of storage, line of the Jeep behind it, unfold the tow bar arms, and connect them up! We can connect or disconnect in just a couple of minutes. If you'd like to see us do it, be sure to watch our video above.
It's Durable and Requires Very Little Maintenance We have had zero issues with this system in 5 years. The only real maintenance we have performed is occasionally cleaning and greasing the arms of the tow bar.
It's Strong Our Blue Ox tow bar is made of steel and the safety cables are thick and solid with heavy duty hooks. We never worry about whether or not our Jeep will be with us when we arrive at our destination. We've driven over some pretty bumpy gravel roads (not on purpose), and the Blue Ox system has been solid every time.
It's Lighter Than Some Other Systems Like we said, we usually leave our Blue Ox locked in our RV's hitch. But there have been a few occasions when we wanted to take our bicycles on a trip without towing the Jeep. The Blue Ox is easy for Tom to remove so it gives us the flexibility of making that change. He recently helped an RVing friend with his tow bar system (a completely different system than we have), and their tow bar was a lot heavier than ours so it was more difficult to install and remove.
Customer Service Though we haven't needed this service yet, Blue Ox technicians attend RV rallies throughout the country offering complete tow bar service including full inspection and repair to make sure that their customers' products stay as close to the original factory specifications as possible.
They Have an RV Park! We recently learned that Blue Ox owns an RV Park next to their factory in Pender, Nebraska. Blue Ox customers are invited to stay for FREE! You can bet we'll be stopping in for a visit and a factory tour next time we're up that way!
Issues We Have Had With Our Blue Ox
The Rubber Met the Road Okay, not quite, but the rubber cover on our electric coil began to fall apart after 4+ years. The electrical wires inside were fine, but no amount of tape would stop the cracking cover. Plus, as we taped it up, we began to lose the coil which makes the wiring a lot longer! Luckily, it was an easy fix. We ordered a new electric coil on Amazon and it arrived the next day. Problem solved! And yes, that is truly the only issue we have had with our Blue Ox tow bar system over our 5 years of ownership.
Would We Buy Another Blue Ox Tow Bar System?
Absolutely! We would not hesitate for a second about buying another Blue Ox system. But, ours is so durable that we don't think we will need to for a very long time!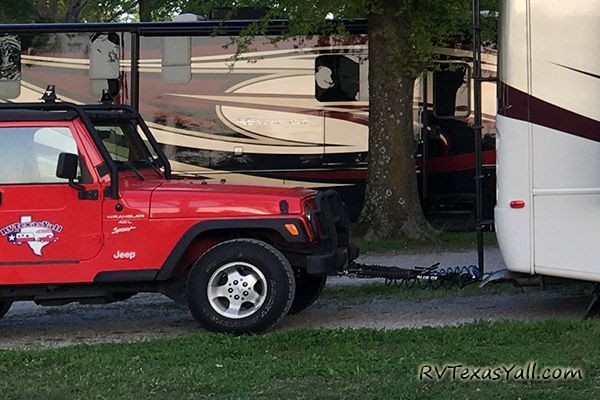 Our Blue Ox Tow Bar At Work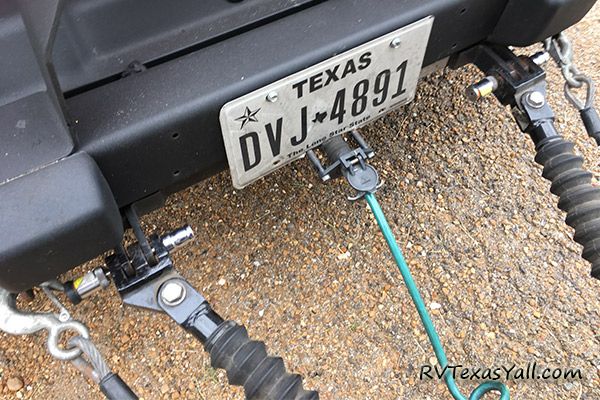 You'll Need a Blue Ox Base Plate On Your Tow Vehicle
What You Need For Your Blue Ox:
Blue Ox Alpha 6,500lb Tow Bar Blue Ox makes several tow bars to choose from depending on how much weight you will be towing. Most of their tow bars are made of steel.
Blue Ox Coiled Electric Cable This is the piece that we just replaced on our Blue Ox system. It is the only part that we have had to replace in the 5 years that we have owned the system. The rubber cover eventually gave in to the elements and became brittle. It was easy to replace thanks to Amazon. You have to have an electric cable to connect the lights of your tow vehicle to your motorhome.
Blue Ox Base Plate You'll also need to have a Blue Ox base plate installed on the vehicle that you want to tow. Select the base plate that fits your specific tow vehicle.
Other Blue Ox Items to Consider With Your Tow Bar:
Blue Ox Receiver Locks We use 3 receiver locks on our system: one to lock the Blue Ox into the hitch of the motorhome and the other two to lock the Blue Ox arms to the base plate on our Jeep. This way we never have to worry about anyone trying to steal the system. Plus, it gives us peace of mind to know that the Jeep cannot disconnect on the road since it is locked on.
Blue Ox Drop Receiver Some RVs sit up significantly higher than others. The hitch on our gas Class A motorhome sat much higher off of the ground than the hitch on our diesel pusher motorhome. So when we used our Blue Ox system with our gas motorhome, we also used a drop receiver to bring the motorhome's hitch down closer to the level of the Jeep base plate connections. Drop receivers are available in different heights.
Blue Ox Tow Bar Cover This cover protects your Blue Ox tow bar system from the elements when you are not using it.
Tips for Using a Blue Ox Tow Bar System:
Always Move Forward Like many motorhome tow bar systems, you cannot back up while you are using a Blue Ox. So we try to always pay attention when we are pulling in to a shopping area or rest area to make sure that we can get out by moving forward. If you do find yourself in a situation where you need to back up, you will have to disconnect your tow vehicle, move and then reconnect to continue your trip.
Try to Avoid Connecting/Disconnecting at an Angle This goes for any angle really. Ideally, to connect or disconnect your tow vehicle using the Blue Ox system, it's best to have both your motorhome and tow vehicle in a straight line and on as much of a flat surface as possible. We always set the emergency brake of the Jeep to connect and disconnect (just be sure to release the emergency brake before you begin towing, obviously). Being as straight and flat as possible will make it easier to connect and disconnect the tow bar from the tow vehicle.
Follow a List As with many things in RV life, setting up your tow bar is not difficult, but you absolutely want to be sure you get it right! Take your time, stay focused, don't get distracted by your camping neighbors or that awesome bird sighting, and always triple check everything before you pull out. Better safe than sorry!
Maintain the Arms About once a year or so (depending on how often we've used it and where we've been), we pull the rubber gaskets back on the tow bar arms to clean and regrease the arms. When we're done, we just put the rubber covers back in place and secure them with a zip tie. Since the system sits directly behind the motorhome, dirt can make it's way in and gunk up the movement of the arms a bit. This little bit of maintenance goes a long way toward keeping everything running smoothly.
Every Tow Car Is Different... Never Assume! Before you tow your vehicle for the first time, be sure that you know exactly how that vehicle should be set up to tow. All vehicles have different requirements. Not all vehicles are able to be towed 4-wheels down (in fact, most aren't). So be sure you know the requirements for your specific vehicle and how it should be set to be towed successfully. Even amongst Jeep Wranglers, there are a lot of differences in what the individual models require. So never assume what works for your friend will work for you!
Enjoy the Ride! We love having our Jeep along for the ride so we have a fun vehicle to explore with and we don't have to drive the motorhome everywhere we want to go on our trips. Our Blue Ox tow system gives us peace of mind. It's super easy to set up and we never worry about it as we're traveling. We don't mean to go on and on about it, but we really do give Blue Ox our highest recommendation. We are not sponsored by Blue Ox, we have never met anyone with Blue Ox (as far as we know)... We just absolutely love and trust our Blue Ox system. It is a product we believe in 110% based on our 5 years of experience with ours.