We're Finally Organized and Ready to Travel!
This post contains affiliate links. Please see our disclosure for more information.
Video: Tour Our 2017 Tiffin Breeze 31BR
It's been quite the journey over the past several weeks to get organized and ready to hit the road for our full-time travel adventures. One of the biggest challenges for us has been combining what we traveled with as part-time RVers with things we had at our sticks and bricks home and then downsizing to the items that are a priority for us.
As we've worked on organizing our tiny home motorhome, we've moved things around multiple times to learn what seems to work best where. We've also given priority to items that we feel like will help us live healthier, more active lives. Things like our golf clubs, tennis racquets, yoga mats, bike helmets, resistance bands, Vitamix blender, FoodSaver vacuum sealer, cooking equipment and games. Here are a few ways we've organized items...
Organizing the Outside of Our RV...
Outside in our basement storage bays, we've really downsized on our outside cooking gear. We had a lot of similar grills and cookers that we had collected over the years. When we were weekend RVers, we would load a few of the cookers depending on what we wanted to use for that trip and leave the rest in storage. As full-time RVers, we had to give serious thought to what we used most often, what we liked most, and what we could efficiently pack. Today, we own fewer grills and cookers, but we still have everything we need to cook outside over the campfire, on a charcoal grill, propane grill or electric griddle.
We still have all of our cast iron cookware. Because of its weight, it travels in the center of our bedroom closet at the very back of our motorhome. We thought about carrying it under the bed, but felt like that would likely be too much weight on the bedroom slide.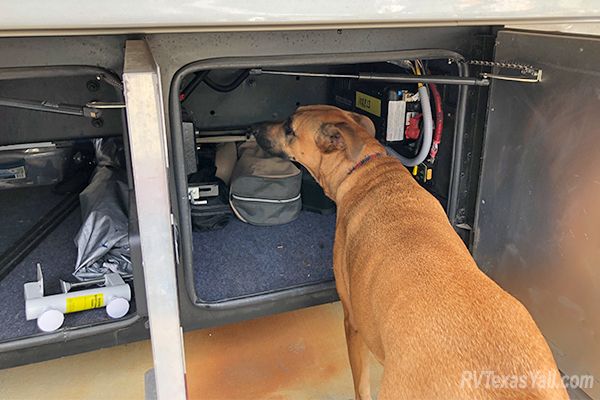 Star Inspecting the Golf Club Storage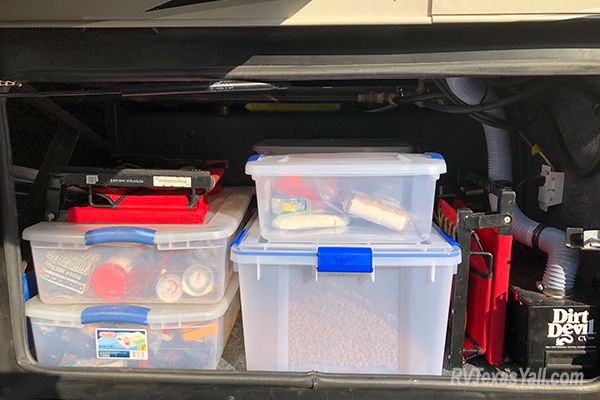 Plastic Bins Keep Us Organized
We were super excited to find room in the basement storage to bring our golf clubs! We never thought that they would make the cut, but as Tom downsized the basement storage, he found the perfect place to carry our clubs. And, although we aren't good at the game, having the clubs on board is another way for us to stay active out on the road. (Plus, we just added the new golf course option to our Harvest Hosts membership, so we look forward to playing from time to time.
We really like our reclining chairs. They are a comfortable way to relax at the campground. But, because of their size, they don't fit very well inside our basement storage. Tom came up with the idea of securing them to a ladder bike rack that we had. (Thank you to Judy K on YouTube for pointing out that the chairs were covering our taillights... we are moving them... safety first!)
Also in the storage bays, we were super excited to find storage tubes for our sewer hoses. We carry extra sewer hoses in case we are camped somewhere where the campsite sewer is a distance from our rig's connections. Plus, like everything else, sewer hoses wear out after a while and sometimes they don't give you a lot of warning before they crack, so it's good to have backups. But, our sewer hoses took up a lot of space and we really didn't like them just laying in the storage with other things. We liked this Valterra Sewer Hose Carrier so much, we bought a second one! We didn't want to drill into anything, so we attached them to the roof of our basement with Gorilla Super Glue and Gorilla Tape. It has held well so far and it gets our sewer hoses up out of the way and uses space that we weren't using before. They make the carriers in different lengths. We went with the adjustable version so we could maximize the space we have. If we don't want to use both of our carriers for sewer hoses, we can carry other items like hiking sticks or maybe a small fishing pole.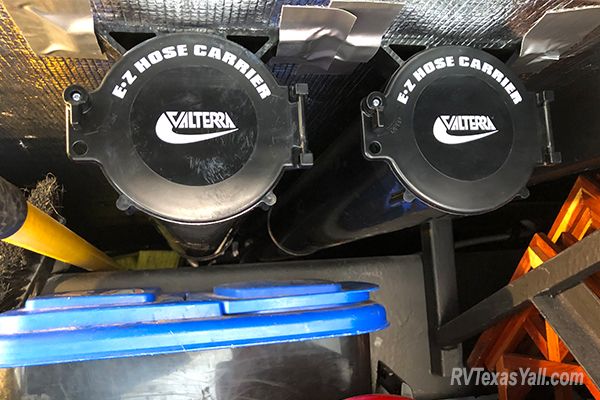 Sewer Hose Storage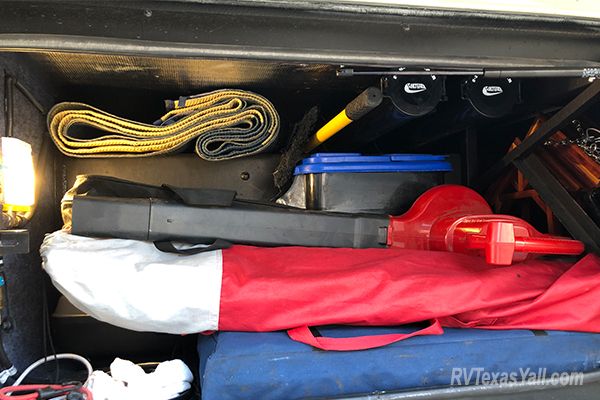 Using the Space Above the Rail
Star's food was another issue that we had. She's a 75 pound pup who loves her food. We buy big bags of dog food so that we don't have to buy food every week for her. She has a small "lunchbox" that stores some food and doubles as a bowl that we have always used when we traveled. But it only holds about a week's worth of dog food. After looking at a lot of options, we found a Ziploc Weather Shield Storage Box that seems perfect for storing her food. It has multiple latches to keep the critters out, and a tight seal to keep moisture out and her food fresh. It fits like a glove into the basement storage!
We've used small storage boxes to organize the outside bays of our RVs for years. They come in different sizes and are a great way to keep tools with tools, maintenance stuff with maintenance stuff, outside cookware with outside cookware,... you get the point. Plus, since the boxes are clear, we can see what's in them before we pull them out.
When he watched the video on YouTube, Bob K asked why we still use an external surge protector when our coach has a surge protection system installed. We've used external Surge Guard surge protectors since 2013. They have always done a great job of protecting our RVs and we believe you can never be too cautious when it comes to protecting your RVs electrical system. As a bonus, our external Surge Guard runs tests on the electrical pole to check the power before we plug in.
Organizing the Inside of our RV...
When you are organizing a small kitchen, ever little bit of space is important. When it came to storing our dry goods like rice, beans, oatmeal, masa, flour, etc, we chose containers that will hopefully keep moisture out (it can get humid in Texas!), keep the food fresh, and stack efficiently. Our Oxo Storage Containers work great! They come in different sizes and stack extremely well allowing us to store a lot of this type of food in a small space without worrying about bags tearing. We've found that square and rectangular containers use the space a lot more effectively than round ones.
Another challenge in the kitchen is storing things like potatoes and onions. How do you keep them from rolling around in the cabinet? The last thing we want is to have an onion roll back behind things without us knowing and sitting back there for weeks or months! We found these portable racks at Walmart that stack perfectly inside our cabinet. They allow airflow all around the veggies without allowing them to roll around.
We love board games! They are fun and a great way to exercise our minds. We downsized our game collection significantly, but we still had quite a few we wanted to carry. We are storing them in several out of the way areas including under one of the dinette benches and in the closet. But there were a few that didn't really need their boxes, so by getting rid of the boxes for the games that didn't have a lot of small pieces, we saved a ton of storage space. We also got rid of a few other boxes. It's crazy how big some boxes are compared to the item they carry!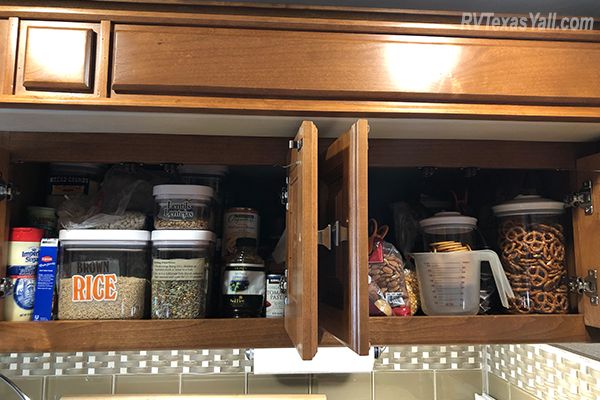 Dry Goods Storage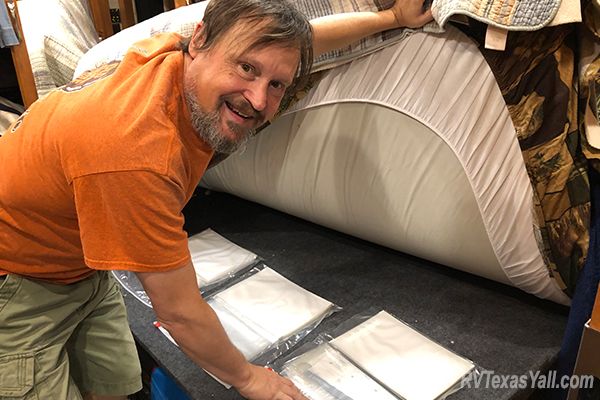 Under Mattress Storage
Since the RV is now our full-time home, we are carrying items that are important to our everyday lives, but that we didn't carry with us when we were part time RVers. This is especially true in the kitchen. We brought along items like our Vitamix blender, Food Saver Vacuum Sealer, Bonavita Electric Kettle and Breville Coffee Grinder. The blender, kettle and coffee grinder sit on the the kitchen counter when we are parked. They will travel in the kitchen sink. We store the FoodSaver under the bed and bring it out when we need it. We had several boxes of flat FoodSaver bags that we struggled to find a home for. Our friend (and fellow RVer) Judy came up with the idea to put the bags into a large Ziploc bag and carry them between the mattress and the board under the bed. It works perfectly!!
Another item we never thought we'd be able to carry with us is our glass coffee carafe. We have always carried coffee pots in the RV that have metal carafes to avoid glass. But we have decided to do away with our coffee maker and make our coffee with pour overs. We have the equipment to make one cup at a time, but it's nice to have a little bit more coffee ready. So we brought our glass pour over carafe. It lives on the kitchen counter while we are parked. We will wrap it in rubber shelf liner for travel.
We're glad we started our full-time RV life during cooler weather. We might have gotten rid of too many of our cold weather clothes if we started in the summer. But keeping a few extra pieces of clothes means that we have to get more creative in storage. Our hanging closet organizers work great for storing our shoes, t-shirts, shorts and pajamas. These organizers allow us to store a lot of clothes in a small amount of space.
Speaking of clothes, our dirty clothes go into a collapsible hamper that sits at the foot of the bed. We were going to keep it in the closet, but that space is now taken by our cast iron cookware. It's easy to walk by the hamper and we can just pick it up and head to the laundry when we're ready.
In the bathroom, we didn't have a rack for our bath towels. We added command hooks in the shower to hang our bath towels, squeegee, wet swimsuits and other wet items. We've used Command Hooks in our RVs for many years and have had great experiences with them.
We wanted to carry a extra pillows for times when folks travel with us. We store them behind the couch!
More Tips for Organizing Your RV...
Be Creative! The way we have organized some of the things inside our RV is completely different from what we've done before. We never would have thought about getting rid of the game boxes, but in some cases that works out great!
Take Your Time! Downsizing is a process and it takes time. Don't let it frustrate you. As you live in your space, you get to understand it better. You learn what you are really using, what you really need and what your priorities are. It becomes easier to organize everything as you learn your space.
Try Out Different Things! Often your first attempt at organizing an area won't really work out as well as you had hoped. That's okay. Just keep trying other things until you are happy with the results. As an example, our crockpot started out in the back of our dry foods cabinet. But every time we wanted to use it (which has been quite a bit lately) it was a pain in the butt to pull everything out to get to it. It now lives in a cabinet on the other side of the living area where we can get to it easier.
Sometimes smaller is better! We started out with Stacie's desktop computer and two monitors set up on the dinette table. But we got tired of not being able to use the table for anything else. It also made our space feel smaller and was difficult to reach over to access the cabinets above. So we've downsized to her laptop. It really makes a big difference!
Thank you for being a part of our journey. There's a lot of good stuff coming up (so much to see and do!). To make sure you see all of our videos as we release them, please make sure you are subscribed to our YouTube Channel! See y'all out on the road!
In case you are interested in some of the items that you saw in this video, here are our Amazon Storefront links:
OXO Storage Containers: https://amzn.to/2GC4zPK
Hanging Closet Storage Organizers: https://amzn.to/2Rf35yR
Command Hooks: https://amzn.to/2CtSfNc
Ziploc Weather Shield Storage Box: https://amzn.to/2BBZyAO
Sterilite Latch Containers: https://amzn.to/2BAMhsj
Valterra Adjustable Sewer Hose Carrier: https://amzn.to/2BC3BNr
RV Ladder Mount Bike Rack: https://amzn.to/2Lv6ynD
Comfort Zone Mini Electric Heater: https://amzn.to/2V8T5Xh
50 Amp Surge Guard: https://amzn.to/2CuGwxP
30 Amp Surge Guard: https://amzn.to/2BAEtXr
FoodSaver Vacuum Sealer: https://amzn.to/2V5fcOb
Crockpot: https://amzn.to/2Rj1MPk
Breville Coffee Bean Grinder: https://amzn.to/2SeFrje
Bonavita Electric Kettle: https://amzn.to/2ShPVhM
Vitamix Blender: https://amzn.to/2BzqXn8
Brita Water Filter Pitcher: https://amzn.to/2CsghYU
Zero Gravity Reclining Camp Chair: https://amzn.to/2SfuwG7