RV Friendly Campgrounds in the Texas Panhandle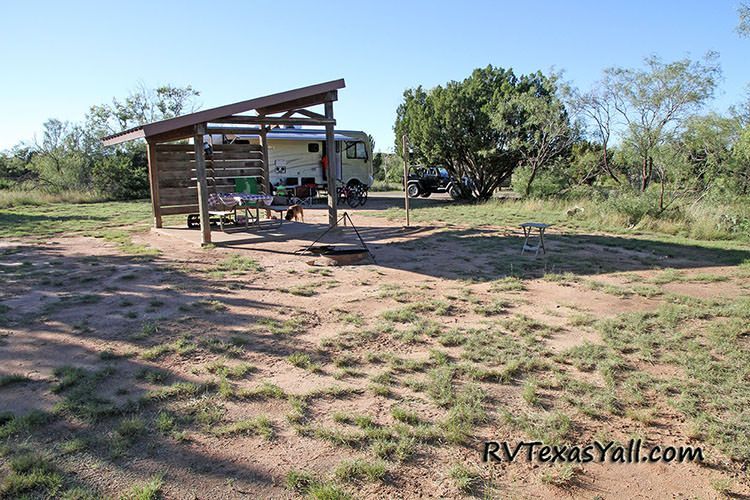 Our campgrounds lists include Texas State Parks, Corps of Engineer (COE) Parks, National Parks, US Forest Service Parks, River Authority Parks, County Parks and any other public parks that offer RV camping. These are natural areas where you can spend time outdoors and wildlife watch, hike, bike, fish, boat, geocache or just relax. No RV yet? No problem! These parks generally offer tent camping, shelters or cabins as well.
We're always looking for more parks to visit. If you know of another RV-friendly campground in this region, please let us know about it!
For additional places to RV in the Texas Panhandle, please visit our RV Parks in the Texas Panhandle page!
Abilene State Park
- Texas Parks and Wildlife
150 Park Road 32, Tuscola TX 79562
325.572.3204
FM 1065, 3.5 miles north of State Hwy 86, Quitaque TX
806.455.1492
Read About Our Visit!
Copper Breaks State Park
- Texas Parks and Wildlife
777 Park Road 62, Quanah TX 79252
940.839.4331
Take Hwy 153, 8 miles west of Coleman, TX. Enter main entrance of Hords Creek Lake and follow signs to Flat Rock Park.
325.625.2322
1701 N US Hwy 283, Albany TX 76430
325.762.3592
4582 FM 2836, Colorado City, TX 79512
325.728.3931
On FM 2477, 18 miles east of Groom, TX.
No reservations accepted. First come, first served.
580.497.2143
FM 2035, 3.9 miles south of I-20, Exit 249. Sweetwater, TX.
325.235.8816
Take Hwy 153, 8 miles west of Coleman, TX. Enter main entrance of Hords Creek Lake and follow signs to Lakeside Park. (north side of Hords Creek Lake)
325.625.2322
Palo Duro Canyon State Park
- Texas Parks and Wildlife
Pampa RV Park
- City of Pampa, Texas
1 mile east of Pampa, Texas off of US Hwy 60.
806.669.5750
San Angelo State Park
- Texas Parks and Wildlife
3900-2 Mercedes Road, San Angelo TX 76901
325.949.4757