#BeyondTX: South Dakota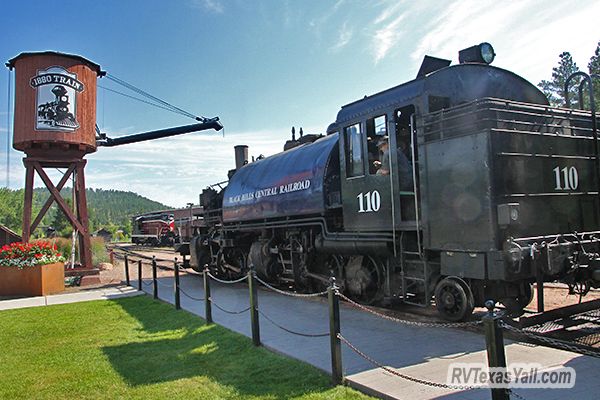 Hill City Depot
We love riding vintage trains, so when we were looking for things to do in South Dakota and discovered the 1880 Train, we bought tickets right away! This 2 1/2 hour roundtrip adventure takes you through the South Dakota Black Hills between Hill City and Keystone. One of the things we liked best about this train ride was the ability to build your own adventure.
If you'd like to see video of our experience on the Black Hills Central Railroad, check out our "Black Hills SD to Black Hills WY: Steam Trains and Close Encounters" post. For folks interested in watching more video of the experience, we published a more detailed ride-along video of our 1880 Train excursion for our Posse.
Where is the 1880 Train?
You can choose to depart from either Hill City or Keystone, South Dakota. Both towns are located 20-30 minutes North of Custer State Park. The route travels the one built by the Chicago, Burlington and Quincy Railroad in the late nineteenth century when the Black Hills were undergoing a mining boom.
Along the way, the route takes you up one of the steepest railroad grades in the country, through some of the oldest rock formations, near the highest peak East of the Rocky Mountains and along the back side of Mount Rushmore.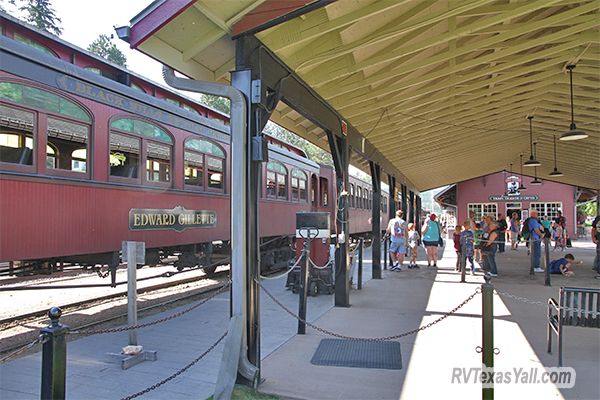 Hill City Boarding Platform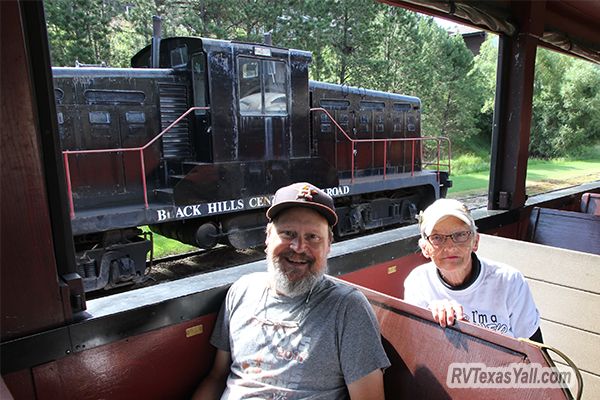 Departing Hill City
A Little Bit of History on the Black Hills Central Railroad
The first steam engine arrived in this area in 1879, five years after the gold mining boom began. The route that the 1880 Train (also called the Black Hills Central Railroad) follows was built during the 1890s. These rail lines were also used to haul materials to Mount Rushmore during its carving in the 1930s. Commercial use of this route stopped in the early 1950s.
As steam engines were being replaced by diesel engines, a group of local railroad men decided to do what they could to preserve the heritage of the steam locomotive. But they did not want to limit it to a non-functioning display that would only be looked at as part of a museum or park.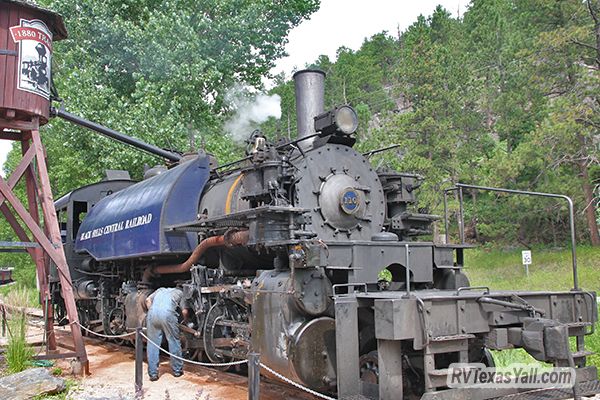 #110 Refueling in Keystone
The Black Hills Central Railroad opened to the public in 1957 with a steam engine and two open-air passenger coaches. It is also called the 1880 Train because one of the founders believed it would give folks the experience of what it was like to ride on a passenger train during the 1880s.
Today, the Black Hills Central Railroad owns three steam locomotives, two diesel locomotives, and twelve other cars. One thing we love about this railroad is its authenticity. These are not replica locomotives or passenger cars. What they have here is the real deal... restored originals still in operation. We think that is pretty cool. Riding in rail cars with a rich history really adds to the experience.
Our train was pulled by Steam Locomotive #110 which was built in 1928. For you railroad enthusiasts out there, the 110 is the only operating 2-6-6-2T Mallet in the world! It worked hauling loads of lumber until 1968 and was restored to working order in 2001.
The passenger car we rode in was "Mystic". Mystic began its life as a passenger coach on the Oregon Electric Railway. Its name comes from the fact that it looks like passenger cars that were used between Rapid City and Mystic, South Dakota in the 1920s.
If you enjoy classic train rides, this one is a must since it is the oldest continuously operating standard gauge excursion train in the United States.
Parking for the 1880 Train
Train excursions depart from both Hill City and Keystone. Keystone parking is paid parking in lots down the street from the train depot. The Hill City depot offers free parking on site, including a section specifically for RVs.
Hill City RV Parking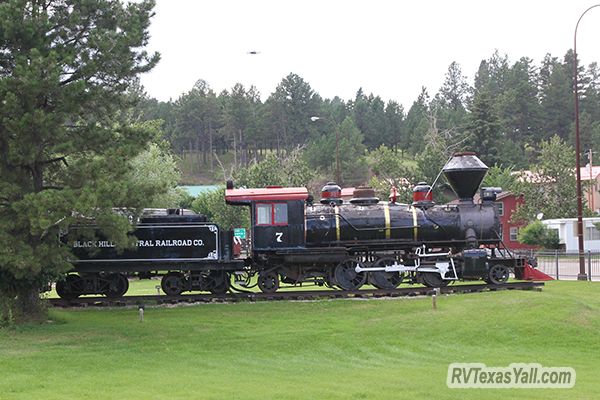 100 Year Old Locomotive
Our Favorite Parts of Riding the 1880 Train
Y'all know we love learning the history of the areas that we visit. Along the ride, a guide shared some of the history of the area, the rail line, local mining and steam trains. The sound system in our train car was excellent, the narrator was easy to understand, and we really enjoyed the stories.
We also really enjoyed the ability to customize our experience. When you buy your tickets online, you can choose which car and seat you will be riding in, which depot you depart from, the time of departure and time of return. So if you want to return immediately you can. Or you can take the time to explore and grab a bite to eat before your return ride. We also appreciate that their reservation system tells you what type of locomotive will be pulling each excursion so we were able to choose trips pulled by one of their Steam Locomotives.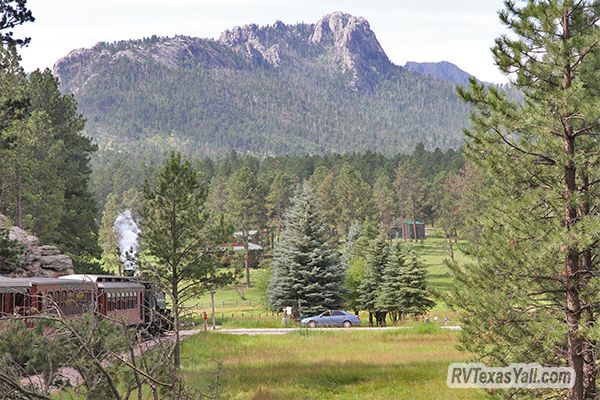 Black Hills Views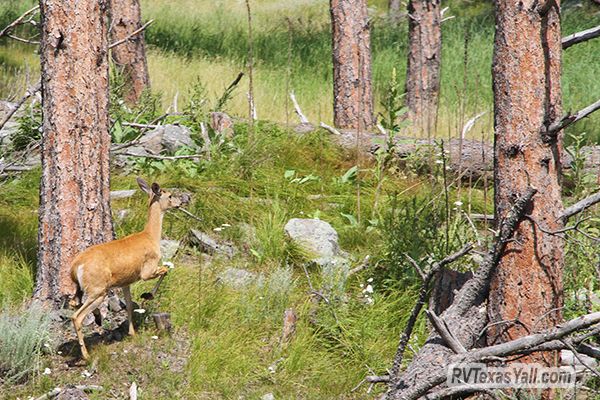 Trackside Wildlife
Tips for Riding the 1880 Train
You Can Stop On Your Way To Or From Custer State Park. You can definitely make the 1880 Train a day excursion while you are camping at Custer State Park. But it was also a great way for us to start our travel day leaving Custer State Park with something fun and interesting. It's about a 30 minute drive from the state park to the Hill City Depot. RV parking is right next to the depot. We rode the first train of the morning to Keystone and explored for an hour and half before riding back to Hill City. The entire experience took us about 4 1/2 hours and gave us plenty of time to drive to our next destination (Devils Tower National Monument) which was less than 3 hours away.
Arrive at the Depot Early. You'll want to get to the depot early so you'll have time to pick up your tickets, go to the restroom (there are no restrooms on the train), maybe get a snack and explore the depot itself. The Hill City depot is a historic depot that also includes a railroad museum. We did not plan enough time to take in the museum before our train ride.
Train Excursions are Seasonal. The main train adventures here typically operate from May to October. The 1880 Train offers a Christmas themed ride in November and December with a completely different experience.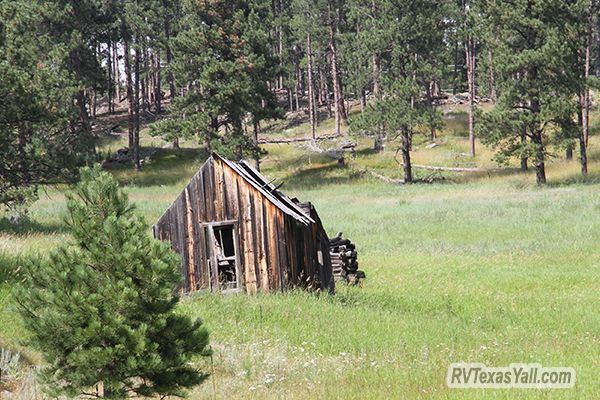 Old House on the Route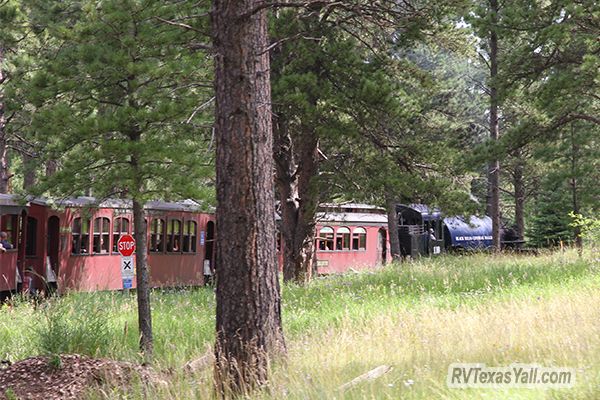 Riding Through the Forest
Small Coolers Are Allowed. If you would like to bring a few drinks or snacks with you, you can bring a small cooler that can fit under your seat. They also sell water, cokes, popcorn and candy on the train. And both Hill City and Keystone have restaurants within easy walking distance from the depots.
Dress For the Weather. When you make your reservations, you can choose seats in either open-air or enclosed passenger cars. We chose one of the open-air cars and were very comfortable in August. None of the cars (including the enclosed cars) have air conditioning. The enclosed cars have windows that passengers can choose to open.
Pets Are Not Allowed On The Trains. Star stayed in our air conditioned RV with the generator running while we rode the train.
Don't Forget Your Camera. While some of the route isn't all that amazingly scenic, you will pass through a section of the Black Hills National Forest. You'll also see some old mining buildings and you'll have a chance to take photos of the train as it rounds corners. We also saw deer.
Get More Info On the 1880 Train
To learn more about the 1880 Train / Black Hills Central Railroad including its operating season, schedule and current ticket prices, check out their website.
And Don't Forget!
To see part of our 1880 Train experience, check out our video on our "Black Hills SD to Black Hills WY: Steam Trains and Close Encounters" post. We also posted a more detailed ride-along video of our trip on the 1880 Train for our Posse.