Our Full-Time RV Life On The Road, Episode 2
Video: Touring West Columbia TX | Life On The Road, Ep 3
When it came to choosing our second stop as full-time travelers, we decided on visiting a town that many of you may never have heard of. At the intersection of Highways 35 and 36 in Brazoria County, you'll find West Columbia, Texas. West Columbia (or just Columbia as it was known historically) is full of nice folks, small town charm and big Texas history. Plus, this is Stacie's Mom's hometown! "Grammy Kay" joined us on this trip to share some of her memories and reconnect with the community.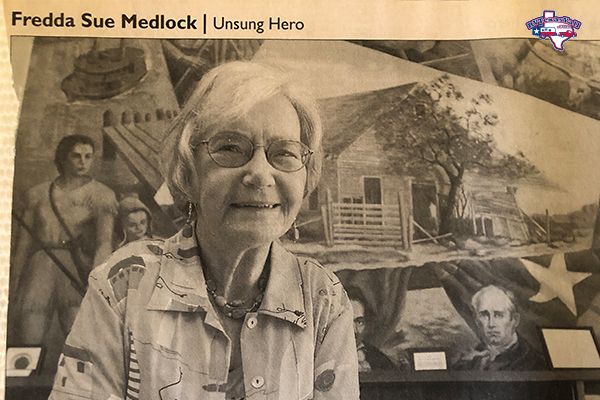 Stacie's Aunt, Fredda Medlock
We also chose West Columbia because of Stacie's Aunt Fredda (Grammy Kay's sister). After spending many years living and working in Houston, Aunt Fredda returned to West Columbia, bought back part of their family property and built a small home. After her return she was very active in the community, particularly anything having to do with the history of the area. Over the years, Aunt Fredda volunteered at the Varner-Hogg Plantation, participated in the local festivals and events celebrating Columbia's heritage, and was the first paid caretaker of the Columbia Historical Museum after many hours of volunteering there. She was named the West Columbia Chamber of Commerce Woman of the Year in 2005, an honor which she deeply cherished. In short, she loved West Columbia.
So, we dedicate this post and video in honor of Fredda Medlock, West Columbia Native, History Docent and Columbia Enthusiast, 1937-2017.
Why travel to West Columbia, Texas?
West Columbia might be a small town today, but this town played a major role in Texas history. This area, which sits near the Brazos River, was part of Stephen F Austin's colony during the 1820s. Martin Varner, who was the original owner of the land that is now home to the Varner-Hogg Plantation State Historic Site on 13th Street was an Austin colonist, as were many of the other folks who called this area home.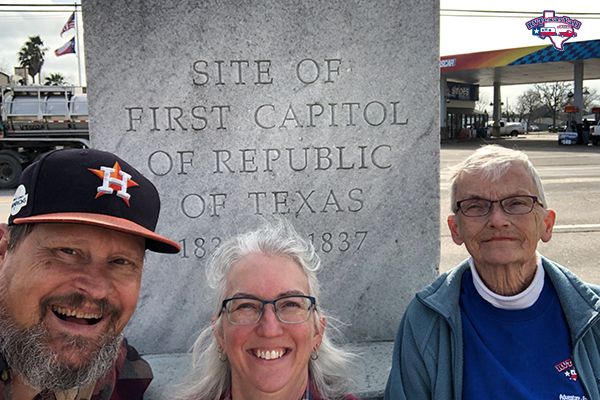 First Capitol of Texas Marker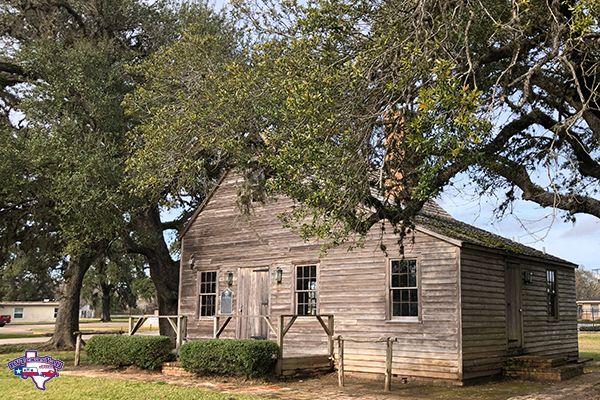 Replica of the First Capitol Building
During the 1800s, the Brazos River served as a major hub of commerce and transportation. And in the 1830s, Columbia was one of the few towns that had enough commerce and hotel space to serve as a meeting place for a new government. So in 1836, Columbia became the first capital of the Republic of Texas. Though their time as official capital was short, the folks here in West Columbia have embraced that history and have done a great job of highlighting it.
It was here that General Sam Houston was sworn in as Texas' first President, Mirabou B Lamar as Vice-President and Stephen F Austin (the Father of Texas) as Secretary of State. The first government meetings were held here, and it is said that Stephen F Austin worked long into cold nights in a room with little to no heat writing up documents for the newly formed nation. Unfortunately, he became ill with pneumonia during this time and passed away at the George McKinstry home here in West Columbia in December 1836 (just months after losing the Presidential election to Sam Houston). Yes, the Father of Texas passed away here in West Columbia. Mr McKinstry, by the way was an Irish immigrant who came here as part of Austin's Old 300. Among his long list of civic activities, he served as the first Postmaster in Brazoria County.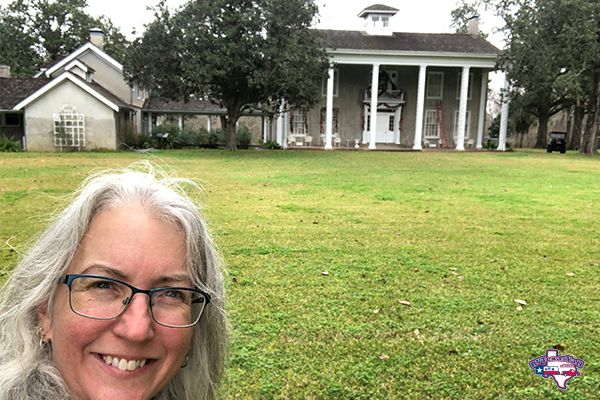 Varner-Hogg Mansion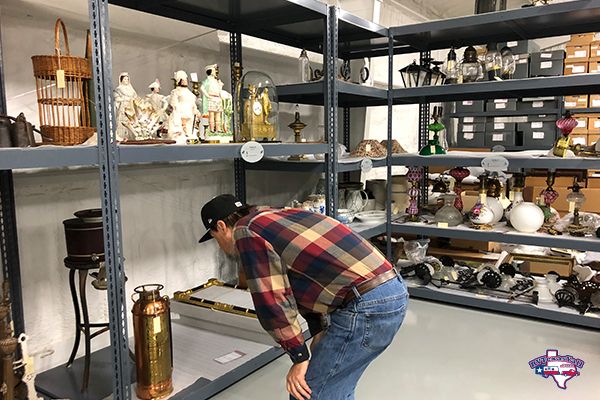 Exploring the Off-Display Antiques of Miss Ima Hogg
We don't normally visit graveyards as part of our travels, but Mom (and several of the locals told us that the Columbia Cemetery was a must visit for folks interested in Texas history. And boy were they right! During a brief walk through the cemetary we learned a lot about Texas history. This is the resting place of Old 300 Colonists, Texas Revolution soldiers and leaders, a man who spent time at the Alamo before it fell, several survivors of the Fannin Massacre at Presidio La Bahia in Goliad, a few folks who played important roles in the development of public education and so much more. The community has installed signs throughout the property telling stories of the folks who rest here. Each November, the community celebrates the historical folks as local residents portray them and tell their stories during their Meet Your Ancestors program at the cemetery.
You may have heard of the Varner-Hogg Mansion which is here in West Columbia. It may surprise you to know that the mansion was built, not by the first owner (Martin Varner) or the third owner (Governor Jim Hogg), but by Columbus Patton who built the mansion as part of his plantation. The Patton family owned the property as a sugar plantation and, later, cattle ranch from 1834 until 1901. Governor Hogg bought the property following the Great Storm of 1900 that devastated much of this area. The Hoggs repaired the storm damage and added to the home, using it as their vacation home, essentially. Oil was discovered on the property while the Hogg family owned it, and Governor Hogg's daughter, Ima Hogg, collected what is considered to be one of the most impressive collections of American antiques in existence. She donated the property to the State of Texas in 1958. So many antiques are housed here, they cannot display them all in the mansion. So at any given time, many of the antiques are held in a separate building off display. You can choose a self-guided tour or a guided tour of the mansion. The guided tour comes with some additional access and interesting stories of some of the antiques on display.
Also in West Columbia, you'll find a replica of the first Capitol Building (the original building was destroyed by the Great Storm of 1900 that you might be familiar with from Galveston history). The replica building now sits near City Hall and next to the Veteran's Memorial. The original location of the building is now called Capitol of Texas Park and features 21 black granite monuments telling the story of the early days of Texas. There is also a cistern in the park that is believed to date back to the 1830s.
We also really enjoyed our visit to the Columbia Historical Museum and the Columbia Rosenwald School. The Museum is open Thursdays, Fridays and Saturdays from 10am until 2pm. They have a sizeable collection of items from the area including art, steamship and paddle wheel ship bells, furniture, quilts, photos, military uniforms and more. Admission is free, donations are appreciated. Group tours are also available by appointment.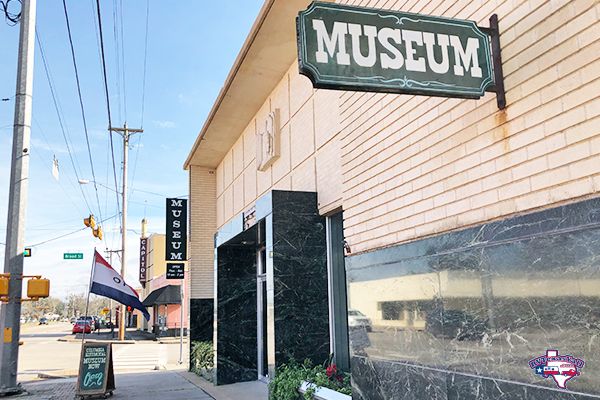 Columbia Historical Museum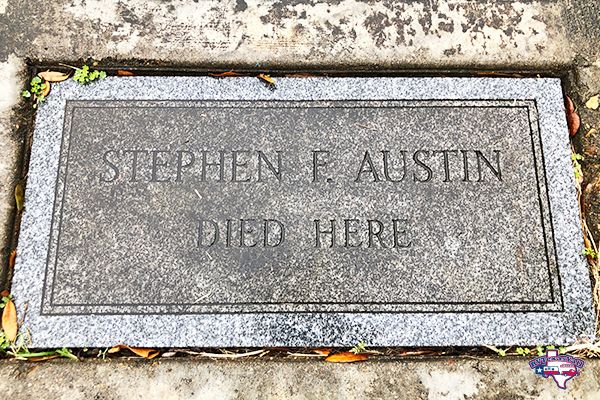 Stephen F Austin Marker at the McKinstry Homesite
Directly behind the Museum, sits the restored Columbia Rosenwald School. In 1912 Booker T Washington approached Sears and Roebuck President Julius Rosenwald with a plan to build schools across the South to educate African American children in rural communities. In all, they built over 5300 Rosenwald Schools in 15 states (approximately 500 in Texas). The Columbia Rosenwald School was built in East Columbia (which is located right next to West Columbia on the Brazos River) in 1921 and served the community until 1948. After the school closed, the building was used for a variety of other purposes. It was rediscovered in the early 2000s, moved to this location and restored by community volunteers and sponsors. Today, it is one of a very few remaining Rosenwald Schools which can be toured.
Where can you RV in West Columbia?
While there are several RV parks in the area, most are only long-term stay parks reserved for folks working in the area. We stayed at First Capitol RV Park. Owned and operated by the City of West Columbia, this is the first city park we have stayed at, so we really had no idea what to expect. We had a fantastic experience! The park has 10 RV sites, but most are rented long-term. The park manager, Russell, told us that he tries to keep one site open for travelers. Our site was a pull-through site with full hookups and 30/50amp service. The park was very clean and quiet (with the exception of one evening when a zumba class was being held in the park... but that was fun to hear). The electrical boxes have been replaced recently. Electricity was very stable and water pressure was good.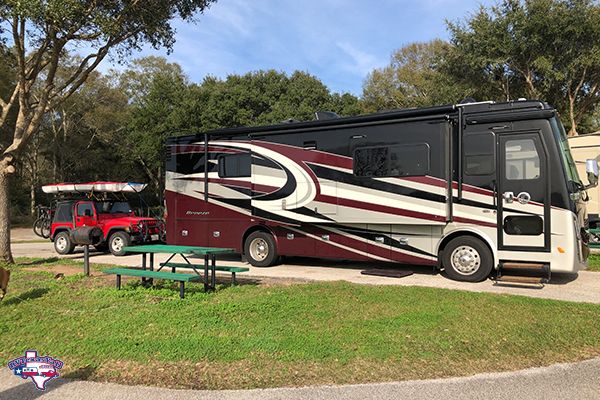 Our Site at First Capitol RV Park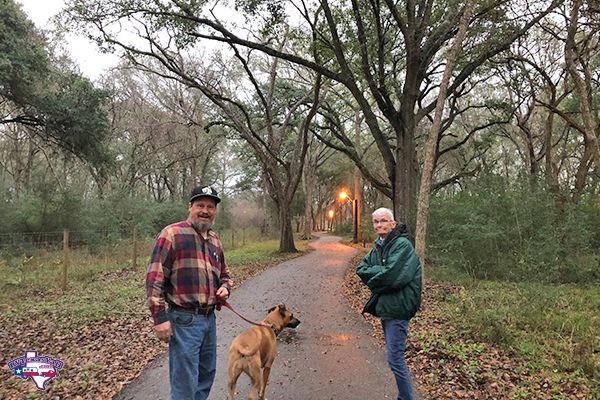 Evening Hiking at First Capitol Park
First Capitol Park includes a nice paved walking trail through the woods, past a fishing pond and around the park that is well-lit at night. You also have access to the fishing pond (with a pier) and playground. During the summer, you can walk across the soccer field to the city's swimming pool for the same small fee that city residents pay to swim. If you like to watch youth sports, the park is also home to soccer, baseball and softball fields.
The park's location on North 13th Street is very convenient to everything in West Columbia. Advance reservations are required. A pay box is at the entrance to the park. We would absolutely stay here again.
Where did we eat in West Columbia?
We enjoyed eating at Elmo's Grill and Smokin' R BBQ. Elmo's is a local's favorite and has been serving the community for years. (We've been eating at Elmo's for a very long time.) The building is an old Dairy Queen. They serve Mexican food, burgers, sandwiches, salads, chicken, shrimp and fish. We have never had a bad meal here. It was our first time eating at Smokin' R. The BBQ was good and the prices were fair. They have a big dining room so there is plenty of space for everyone. We also heard good things about 421 Coffee House and Bistro, but didn't get a chance to check it out while we were in town.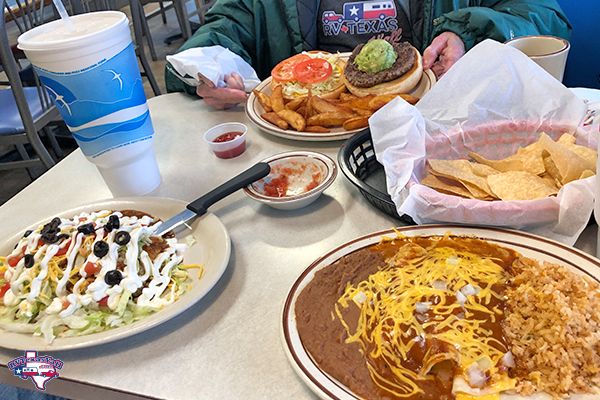 Dinner at Elmo's Grill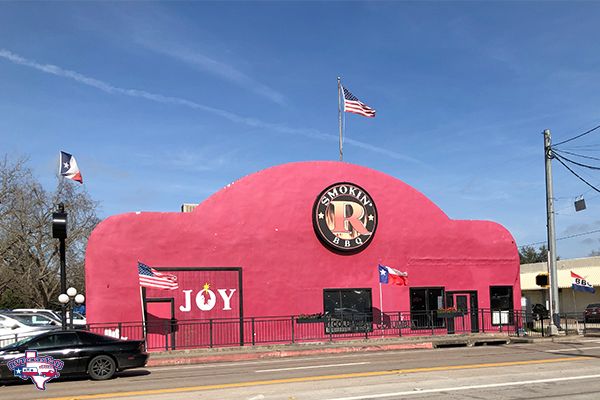 Smokin' R BBQ
Places We Visited in West Columbia:
RV Park:
First Capitol RV Park: 1300 N 13th Street
Restaurants:
Elmo's Grill: 454 S 17th Street
Smokin' R BBQ: 226 E Brazos Ave
Points of Interest:
Columbia Historical Museum and Columbia Rosenwald School: 247 E Brazos Ave
Varner-Hogg Plantation State Historic Site: 1702 N 13th Street
Old Columbia Cemetery: S 16th Street at E Jackson Street
George McKinstry Homesite: County Road 487 off of Highway 36
Capitol of Texas Park: 100 E Brazos Ave
First Capitol Building Replica: 512 E Brazos Ave
We hope you enjoy this visit to West Columbia, TX! Thanks for joining us as we RV Texas Y'all!