Huntsville, Texas - East Texas Pineywoods Region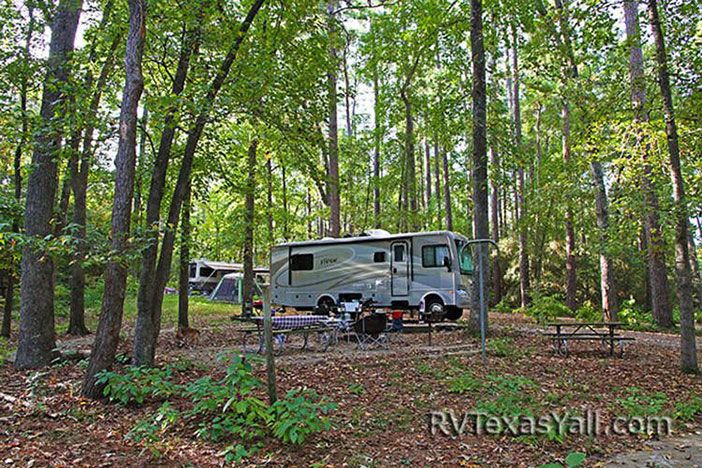 Our campsite at Huntsville State Park
Just North of Houston off of Interstate 45, near the town of Huntsville, Texas, sits a wooded 2,083 acre get-away... Huntsville State Park. This park was constructed in part by Civilian Conservation Corps (CCC) Company 1828, a unit comprised completely of African American military veterans. The men in the CCC worked on building the park from 1937 until 1940. They built the dam which formed Lake Raven, the recreation hall (now called the CCC lodge) and completed a variety of projects around the property.
Though the local residents were in support of the new recreational area, the future of Huntsville State Park almost ended before it really began. In November 1940, a huge rainstorm sat on the area, dumping more than 12 inches of rain here in two days and flooding the park and its surroundings. As a result, the dam spillway collapsed causing hundreds of thousands of dollars worth of damage to the park. Development stopped and the park sat empty for the next 10 years.
Funds to repair the dam and complete the park were eventually raised by selling selective timber from within the park. Prisoners from Huntsville State Prison cleared the brush from around the lake.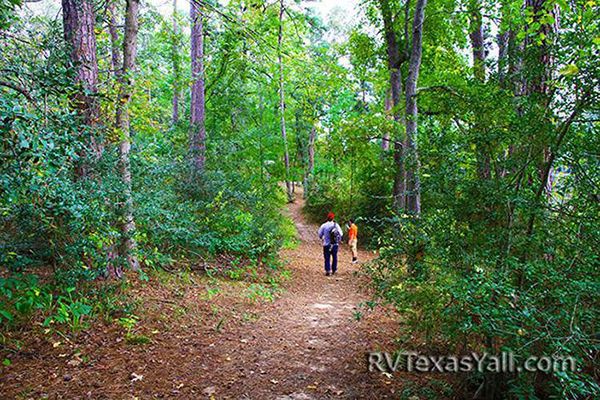 Hiking at Huntsville State Park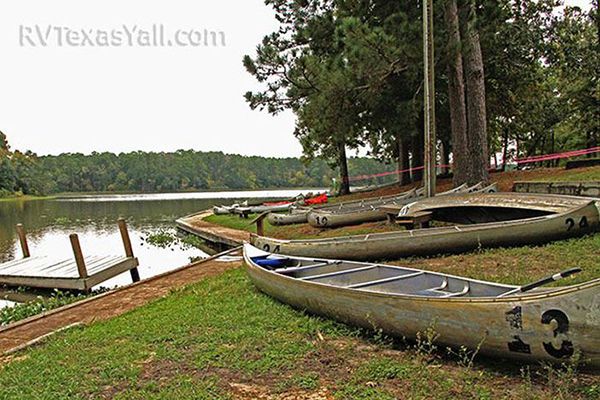 Canoe and Paddleboat Rentals
The building of Huntsville State Park was truly a team effort! After years of work and support from many, many individuals and organizations including the Huntsville-Walker County Chamber of Commerce, the Texas State Parks Board, the National Park Service, the Civilian Conservation Corps, the Texas Highway Department, the Texas Forest Service, the Texas Legislature, the Texas State Board of Water Engineers, and the Texas Game and Fish Commission, Huntsville State Park finally opened to the public in May of 1956.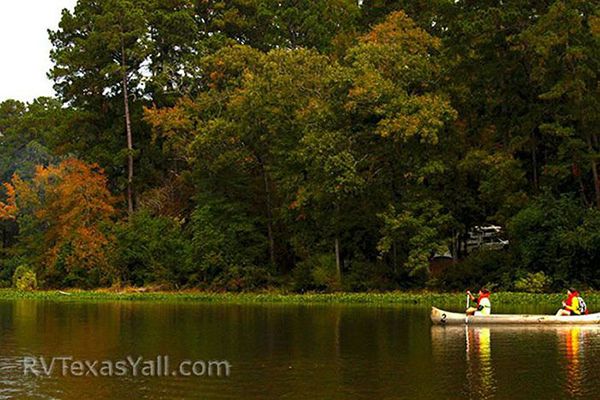 Enjoying the Calm Waters of Lake Raven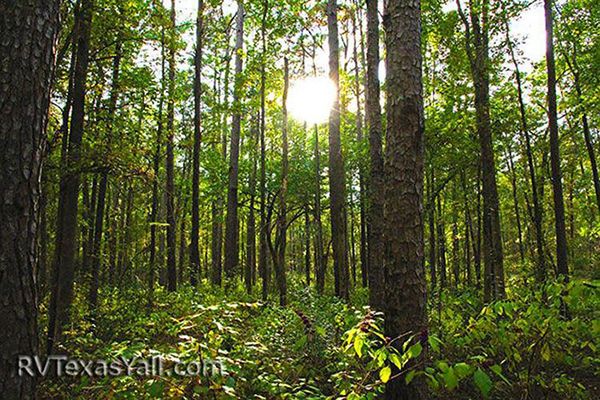 East Texas Forest
Today, the park features 23 full-hookup RV sites, 30 screened shelter sites with electricity, water and room to park an RV, 77 electric and water sites, and 60 water only campsites. All of the campsites with electricity offer both 30-amp and 50-amp connections. But, please be aware of the size. Many of the campsites are short and or narrow, and they can be very uneven. Be sure to arrive early to have the best selection of sites to fit your rig. We pulled in late on a Friday evening and our 29 foot rig would not have fit in most of the campsites that remained. We were lucky that a park host site was available during that weekend. The site worked out well for us and allowed us to have full-hookups when we arrived expecting only electricity and water. However, we were glad to have our automatic leveling jacks... our site was on a hill and some of our wheels were off of the ground while we camped.
As part of the Sam Houston National Forest area, this park offers great shade with a variety of tall trees. Activities available here include hiking, mountain biking, canoeing, paddleboating, geocaching, horseback riding, birding and fishing.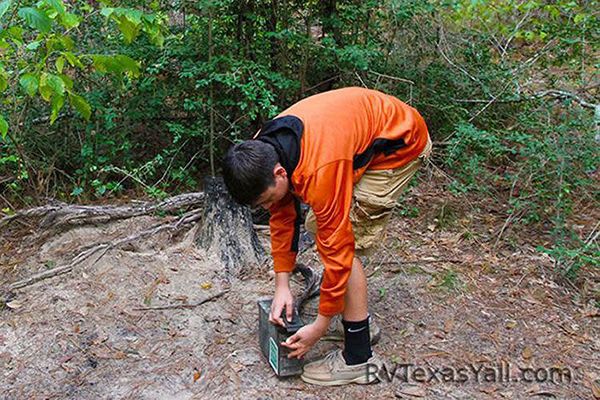 Geocaching is a Great Way to Explore
Trails range in length from approximately 0.2 miles on the Loblolly Trail up to about 9.5 miles if you choose to circle most of the park via a combination of the Triple C and Chinquapin Trails. Truly energetic hikers can grab the trailhead to the Lone Star Trail which travels 129 miles through the Sam Houston National Forest. If you choose to bike the trails, please wear a helmet. The forest trails have a lot of large tree roots.
Beautiful 210-acre Lake Raven sits in the middle of Huntsville State Park. The calm waters are the perfect place to canoe, kayak, paddleboat or fish. If you don't have fishing gear or forget to bring it with you, you can pick up basic fishing gear at the park store. The boathouse also rents canoes and paddleboats, or you can bring your own.
For folks who enjoy horses, guided trail rides are also available within the park. Please note, however, private horses are not allowed and there is no equestrian camping.
Additional amenities include a small nature center, amphitheatre and a park store which sells everything from live bait to small groceries, camping supplies and souvenirs. The store even features a coin-operated air pump outside for your bike tires or small inflatables.
Huntsville State Park is located North of Houston on Interstate 45 near the giant statue of Sam Houston. It is a busy park, so make your reservations early. If you like a quieter camping experience, opt for a stay during the week and/or in the Winter.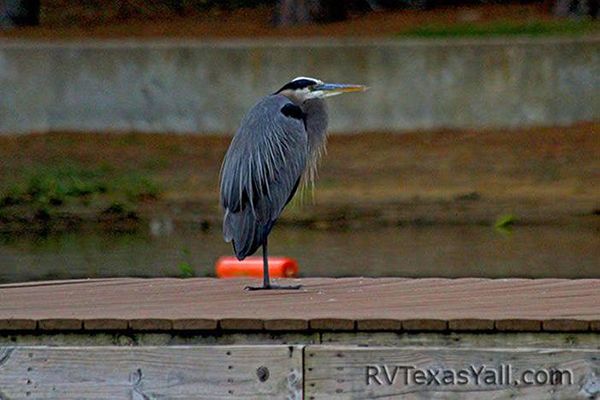 Blue Heron Hanging Out on the Dock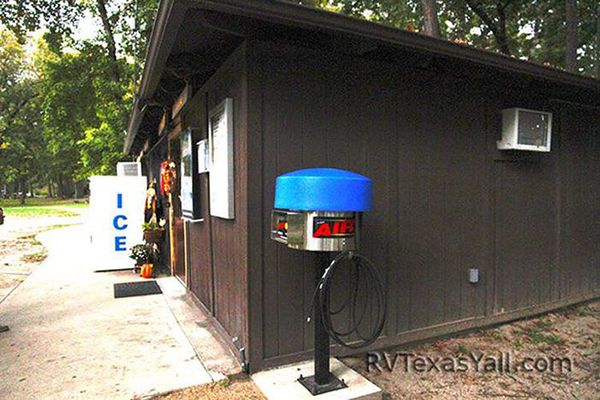 Air Pump at the Park Store
We always enjoy our time at Huntsville State Park. Thanks to Ranger Justin and Park Host/Volunteer Dwayne for visiting with us during our stay.
ALSO IN THE AREA: More Campgrounds in East Texas
IF YOU LIKE THIS POST, CHECK OUT: Our Other Texas Campground Write-Ups
Subscribe To Our Newsletter to stay connected and receive an email with our latest posts and updates!
Tell Us What You Think! Alrighty you've heard what we think, now we want to hear about your experiences. Please share your pictures and comments in the RV Texas Y'all Community on Facebook or in the RV Texas Y'all Community on RVillage. Not a member of one of our communities yet? We'd love for you to participate! And, of course, they are absolutely FREE! Join us to share your experiences and interact with others folks in the RV Texas Y'all communities. Want more info? Learn more about our Facebook Group!
Safe Travels and Happy Camping!