Livingston, Texas - East Texas Pineywoods Region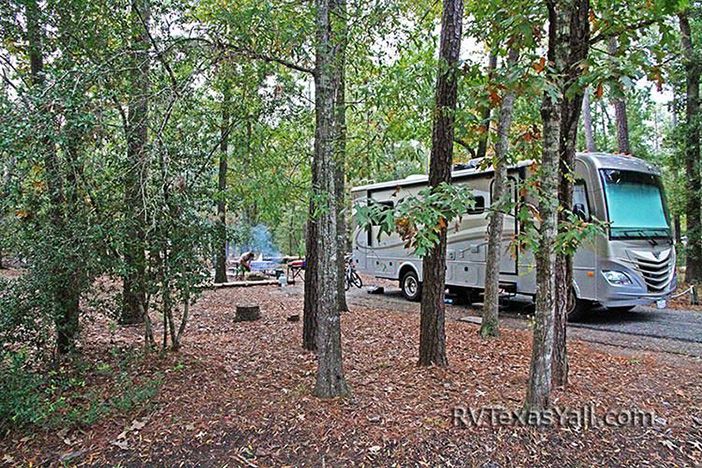 Our campsite at Lake Livingston State Park
If you enjoy boating, fishing, birdwatching, hiking, geocaching or biking, add Lake Livingston State Park to your list of places to visit in the Pineywoods of East Texas. A part of the Texas State Park system since 1977, this park is made up of 635 acres along Lake Livingston, which is an 84,000+ acre man-made reservoir. The approximately 6 miles of trails here range from heavily forested to lakeside and include a 1-mile boardwalk loop.
Prime camping sites here are right next to the water. This park is friendly for some bigger rigs and includes both 30 and 50 amp connections. The campgrounds are separated into 6 loops with 16 water only sites, 59 water and electric, 44 30amp full hookup, 12 30/50amp full-hookup, and 22 premium (nearest the water) 30/50amp full hookup. 10 shelters are also available.
Our campsite was located in the Yaupon Loop which offered full-hookups with 30amp service and lots of shade. The paved site was level and plenty deep for our 29 foot RV with lots of room left over.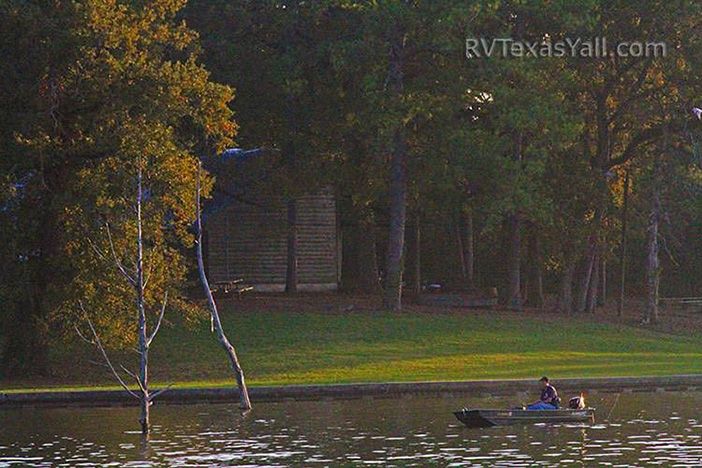 Boating Lake Livingston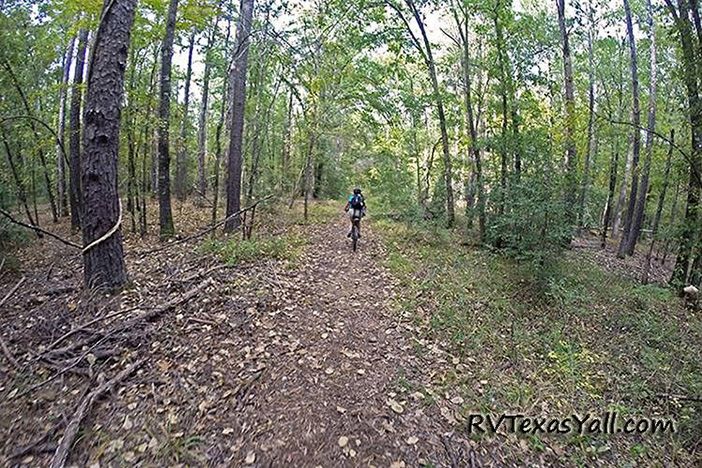 Beautiful Trails to Ride or Hike
Our campsite included a picnic table, lantern pole, fire ring and a very nice, level tent pad which was perfect for our outdoor rug and lounge chairs. We had light rain throughout our stay, but the surrounding trees protected us from the weather. We stayed outside all day every day, cooked outside, ate outside... and were totally protected from the sprinkling rain! So this is a GREAT place to camp when the weather looks a little bit iffy.
Because of the rain, we were a bit limited on the trails. It can get pretty muddy here in the forest, so a lot of our exploration after the first day took place on the roads and the boardwalk. Even so, this is a beautiful park! And our site was never muddy.
The big attraction here is Lake Livingston itself. Three boat ramps and a boat dock are located in the park to handle everything from canoes to motorized boats. (Bring your own boat.) A good-sized fishing pier is located near the boat dock and fish cleaning stations are clean and in great shape. If you do not have fishing gear with you, you can borrow equipment through the Tackle Loaner Program.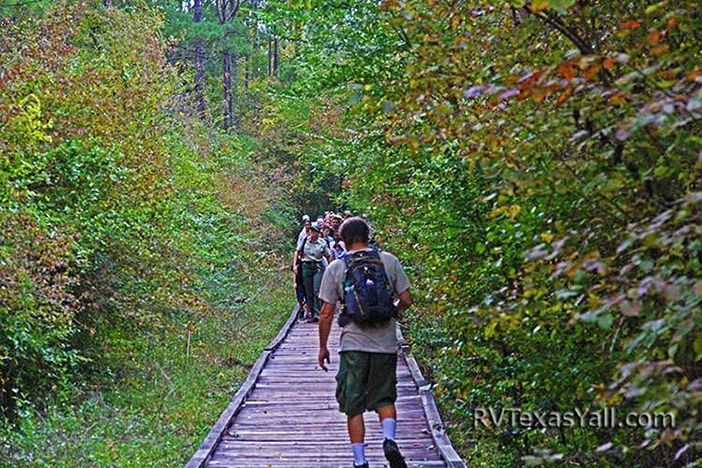 Ranger Led Hikes are Available
Other fun things to do here include horseback riding (group expeditions depart from the stables near Pin Oak Loop), bird watching (including eagles and osprey), geocaching (there are currently 17 geocaches registered on geocaching.com). The park also operates a swimming pool during the summer.
The people here are fantastic! Everyone we met was incredibly helpful and friendly and the entire park was spotless! Thanks to Rangers Beth and Angela, Vernon, and Park Hosts Jon and Sherry. By the way, if you are interested in what life is like as a full-time RVer, check out Jon and Sherry's blog.
We'd also like to give a shout out to fellow RVers Amy and Gary and to Susan Summers at Mt. Rose Country Store. The park store at Lake Livingston was closed for renovations during our visit, so the staff suggested we go just up the road to the little store for ice. We're so glad we did! Mt. Rose Country Store is a great place to get everything from ice and small grocery items to fishing tackle and bait, and even local crafts and gifts. Definitely stop in and see our new friend Susan at Mt. Rose Country Store. They are located at 2116 S FM 1988, Livingston, Texas 77351.
Lake Livingston State Park is located at 300 Park Road 65 just south of Livingston, Texas. It's about 75 miles north of Houston off of US Hwy 59. Though still covered in pineywoods, the park's tree population was hit hard by damage caused by Hurricane Ike in 2008 followed by drought in 2010 and 2011. In 2012, dead trees were taken down throughout the park. Rangers are looking for volunteer groups to help them in replanting trees.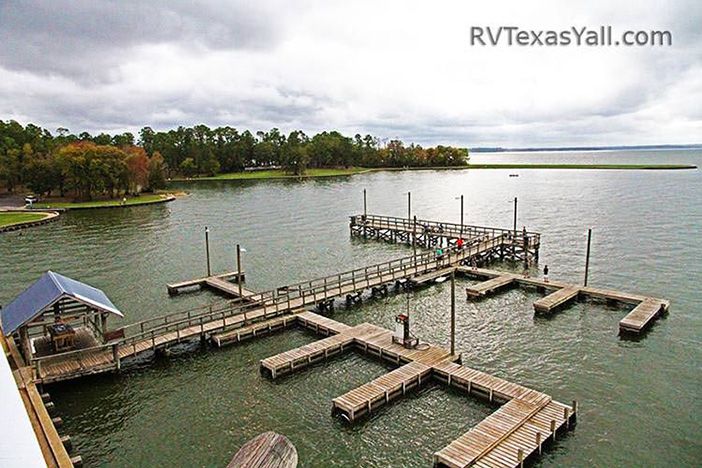 A View From the Tower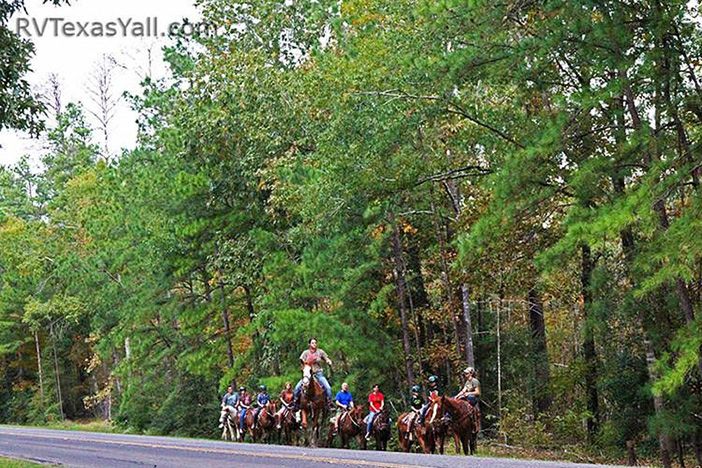 Horseback Rides are Open to the Public
The park also has a population of cats and kittens that they would like to find homes for. If you are interested in adopting one, please contact the park at 936.365.2201.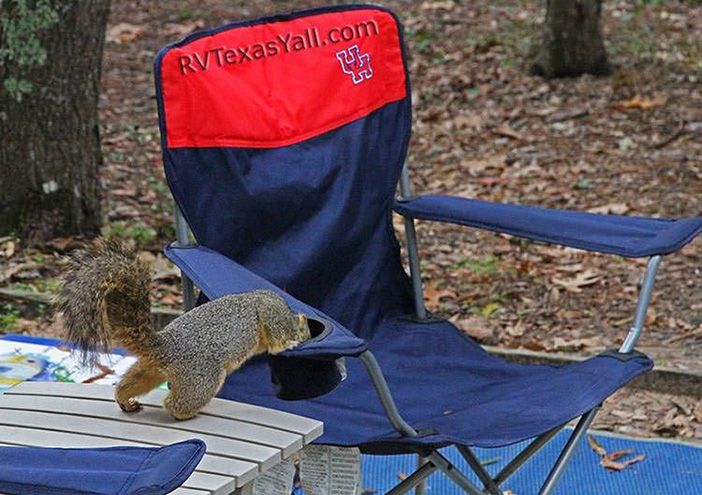 Curious Squirrel
Oh, and before we forget... the squirrels here are incredibly friendly! They will come into your campsite and help themselves to whatever they want. They were not intimidated by us or by our dog, Sally. So make sure that you keep food and paper products inside when you are not using them. Our squirrel friends tried to swipe an entire roll of paper towels!
UPDATE: Lake Livingston State Park is operating a pilot program for their premium site reservations (Red Oak Loop, Piney Shores Loop, and screened shelters). They are the first Texas State Park to allow you to reserve a specific campsite before you arrive! Check out the Texas State Parks reservations system for more information.
ALSO IN THE AREA: More Campgrounds in East Texas
IF YOU LIKE THIS POST, CHECK OUT: Our Other Texas Campground Write-Ups
Subscribe To Our Newsletter to stay connected and receive an email with our latest posts and updates!
Tell Us What You Think! Alrighty you've heard what we think, now we want to hear about your experiences. Please share your pictures and comments in the RV Texas Y'all Community on Facebook or in the RV Texas Y'all Community on RVillage. Not a member of one of our communities yet? We'd love for you to participate! And, of course, they are absolutely FREE! Join us to share your experiences and interact with others folks in the RV Texas Y'all communities. Want more info? Learn more about our Facebook Group!
Safe Travels and Happy Camping!