San Felipe, Texas - Central Texas Region
Stephen F Austin State Park in San Felipe, Texas
May 2016 brought devastating flooding to Stephen F Austin State Park!
Please see our post about the flooding and the damage that the Park is rebuilding from.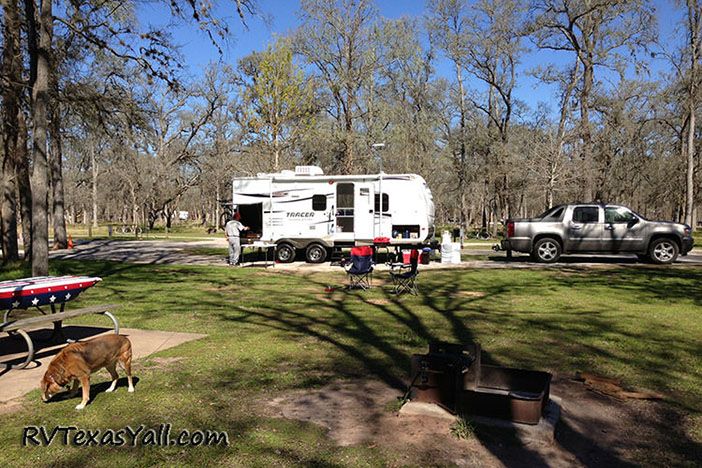 Our campsite at Stephen F Austin State Park
Since our blog is all about exploring Texas, we thought it was only fitting to begin on March 2 (Texas Independence Day) in the State Park named for the "Father of Texas", Stephen F Austin State Park!  Stephen F Austin State Park sits on the banks of the Brazos River in San Felipe, Texas (just North of Sealy, about 30 minutes West of Houston).  It opened to the public in 1940.  The park is named for Stephen F Austin because he brought the first 297 families to this area to colonize Texas.  San Felipe was recognized as the capital of the American colonies in Texas until 1836.  It is considered to be the "Cradle of Texas Liberty".  This area was also home to the birth of the Texas postal system and the Texas Rangers (the law officers, not the baseball team).
Stephen F Austin State Park offers 40 pull-through RV campsites featuring full hookups (water, 30 amp electricity and sewer), 40 tent sites with water, 25 walk-in campsites, 20 screened shelters, group barracks, group walk-in camping area, a recreation hall and a dining hall.
The park's newest overnight option is a beautiful cedar cabin located in the shelter area.  This cabin is fully ADA-compliant, features lights, electric plugs, air conditioning, heating, a mini fridge, a microwave, and gorgeous cedar furniture handmade at the Park:  a full-size bed, bunk beds and a table.  Also fully accessible are it's fire ring and picnic area just outside the cabin.  They expect for the cabin to open for reservations this weekend (March 9, 2013).  Plans are to eventually replace one shelter at a time with these cabins (outer loop first).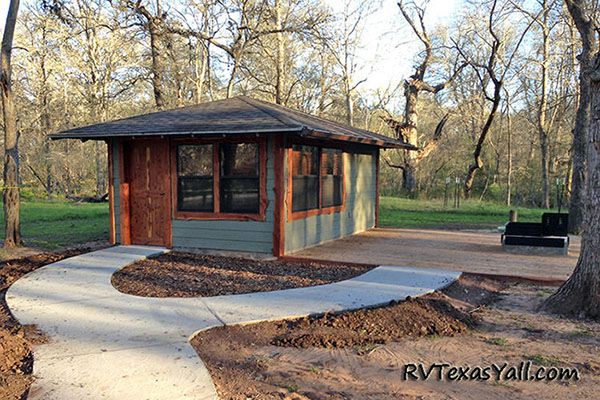 New Cabin Including Handmade Furniture!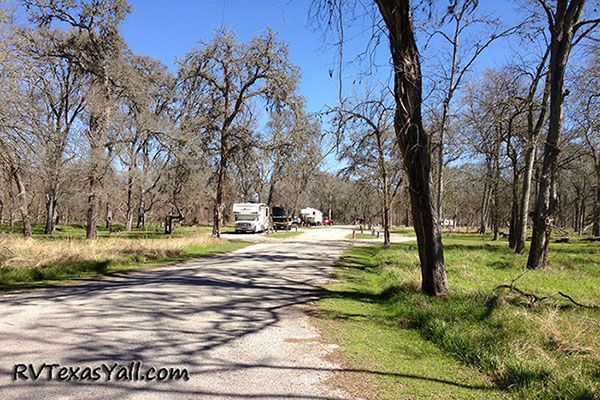 RV Loop at SFA State Park
We stayed in RV campsite #17 right next to one of the Park Hosts.  (Shout out to our Park Host neighbor, Dewey!)  The sites are spacious, well-manicured and immaculate.  Our pull-through wasn't completely level, but it was nothing that a few leveling blocks couldn't fix.  Every campsite contains a fire pit and BBQ grill (that are cleaned out by Park Volunteers after each visit), a picnic table, and a lantern post.  The RV sites are very easy to get in and out of and are well-spaced. The trees here offer nice shade during the warmer months of the year. The RV and tent/shelter public restrooms are clean and have showers. The Park features aluminum can recycling stations at the restrooms and a bike/dog washing station.
We'd like to give a special thanks to the Park Hosts and Volunteers who do a phenomenal job of keeping the Park clean and mowed. Every volunteer we met was extremely friendly and helpful, and it was obvious that they love this Park.  The Park Hosts sell bundles of firewood for $5 and bags of ice for $2, so there's no need to leave the park for these supplies.  All of the proceeds go to Park maintenance and improvements. Gathering your own firewood within the Park is prohibited.
Stephen F Austin State Park offers some great hike and mountain bike trails ranging from easy to challenging.  You can bank fish in the Brazos River, play golf at the Stephen F Austin Golf Course right next door, geocache, or just enjoy the serenity of nature.  We've seen plenty of deer out here on previous trips.  This time we saw barred owls, cardinals, squirrels, raccoons, blue jays, woodpeckers, and buzzards to name a few.  The Interpretive (Nature) Center is open on Saturdays.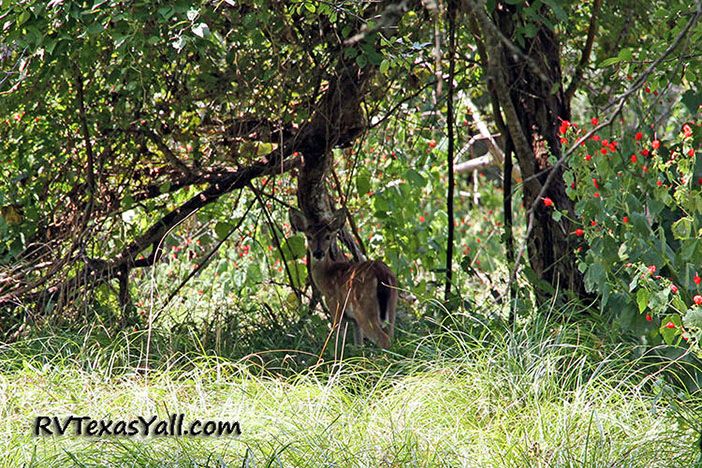 Wildlife is Abundant in the Park
If you would like to help to improve Stephen F Austin State Park, consider joining or donating to the Friends of Stephen F Austin State Park.  This organization raises money and volunteers time for park maintenance and improvements.  Anyone can be a member and dues are only $15/year.  Some of the Friends volunteer work includes: splitting wood, carrying wood, helping with carpentry work and fencing.  For more information contact Dewey Estes (deweyestes51 at yahoo.com) or Tom Shaughnessy (greenh20 at gmail.com).
We really enjoyed our 2 nights at Stephen F Austin State Park.  The park is beautiful, peaceful, and feels like it's worlds away from the hustle and bustle of Houston (even though it is only a short drive from the city).  Make sure to add this one to your list of Must Stays as you RV Texas Y'all!
UPDATE: Since we originally published this blog post, "SFA State Park" has become one of our "home parks". We have camped here in every RV we have owned, from our travel trailer to our Class A Gas, to now our diesel pusher. The pull through sites and full-hookups make it easy for any rig to set up camp, and the RV loop road is wide which makes driving to and from your site a breeze. The full-hookups put this amongst the best parks to RV in (and maybe one day they will add 50 amp electric?). But we get by just fine using the 30amp connections with our converter.
The volunteers and staff here are truly top notch. You will be hard-pressed to find a park that is consistently cleaner or better maintained. Be sure to ask about Ranger programs at the park office. The Brazos Bottomland Forests are quite an interesting ecosystem, and it's nice to have someone point out some of the details we might otherwise miss.
And finally, make sure you visit the San Felipe de Austin State Historic Site just a short distance outside of the park. This is the old townsite of Stephen F Austin's original Texas colony and served as the Texas capital from November 1835 to March 1836. It is a must visit for anyone interested in Texas history.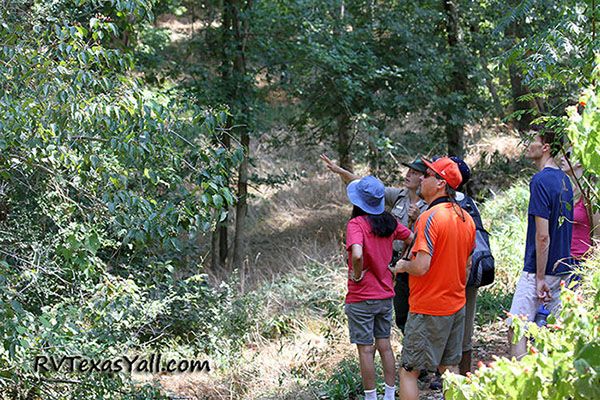 Ranger Led Hikes in the Bottomland Forests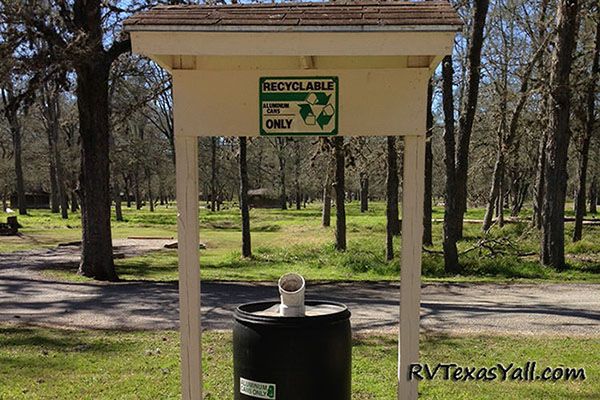 Recycle Centers in the Park
ALSO IN THE AREA: More Campgrounds in Central Texas
IF YOU LIKE THIS POST, CHECK OUT: Our Other Texas Campground Write-Ups
Subscribe To Our Newsletter to stay connected and receive an email with our latest posts and updates!
Tell Us What You Think! Alrighty you've heard what we think, now we want to hear about your experiences. Please share your pictures and comments in the RV Texas Y'all Community on Facebook or in the RV Texas Y'all Community on RVillage. Not a member of one of our communities yet? We'd love for you to participate! And, of course, they are absolutely FREE! Join us to share your experiences and interact with others folks in the RV Texas Y'all communities. Want more info? Learn more about our Facebook Group!
Safe Travels and Happy Camping!