Continuing Our Yellowstone Adventure!
It's hard to think about Yellowstone National Park without thinking about Old Faithful Geyser. We were excited to visit Old Faithful to experience it in person. But we had no idea that the Old Faithful geyser would be just a small piece of all of the amazing things there are to see in this area of the park. Do not miss exploring the Upper Geyser Basin when you visit Yellowstone National Park!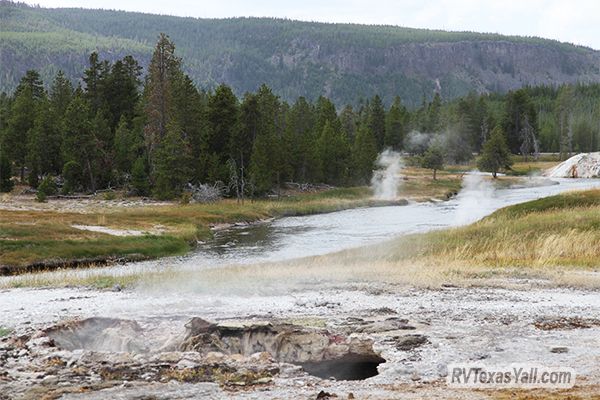 View of the Firehole River
Old Faithful Geyser
Old Faithful as we know it today was studied for the first time during the Washburn Expedition in 1870 (the first official expedition to Yellowstone). The geyser was named for its consistent eruption schedule.
We expected Old Faithful to be the biggest, most impressive geyser in the park. Believe it or not, it is not the biggest, nor is it the most consistent. But it is by far, the most famous geyser and definitely worth a visit. We watched Old Faithful erupt several times during our Yellowstone adventure.
When Old Faithful erupts, it blows water and steam 106 to 184 feet in the air over a period of 1 1/2 to 5 minutes. Each eruption is unique. Some are taller than others, and some last longer. There are benches around a boardwalk specifically to watch Old Faithful erupt.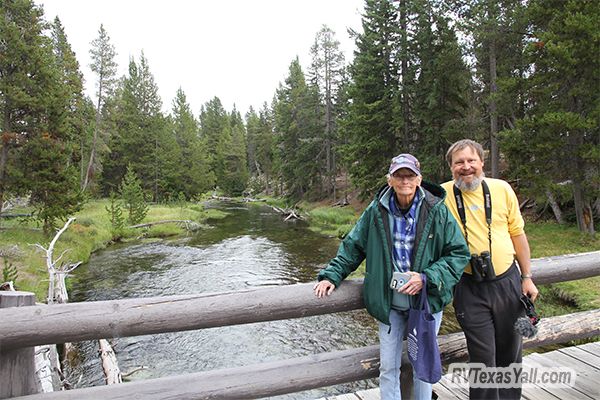 Hiking the Upper Geyser Basin
Old Faithful Inn
Old Faithful Schedule
Despite popular stories, Old Faithful has never erupted on an hourly schedule. Park rangers observe the start time, height of the water, and length of each Old Faithful eruption, along with averages of previous recent eruptions to predict future eruptions. The predicted eruption times are +/- 10 minutes and are announced on information boards around the area.
Old Faithful Geyser Time Resources
You can also find schedule predictions on Old Faithful and other Yellowstone National Park geyser eruptions online through these resources:
Follow @GeyserNPS on Twitter.
Visit the Current Geyser Activity page on Yellowstone's website.
How Does Old Faithful Work?
Old Faithful is a geyser. Geysers are more rare than hot springs because of the constrictions just under the earth's surface that gives the water force as it pushes upward. The water beneath the surface can reach and exceed boiling temperatures. As the heated water rises, it expands and forms steam. The expansion pushes water above the surface, decreasing pressure and increasing boiling. As the temperatures increase, more water is pushed above the surface.
Interestingly, each geyser has its own unique method of eruption. There are more geysers inside Yellowstone National Park than anywhere else and they are all over the place here! So Yellowstone is a great place to spend time to learn more about these incredible geothermal features.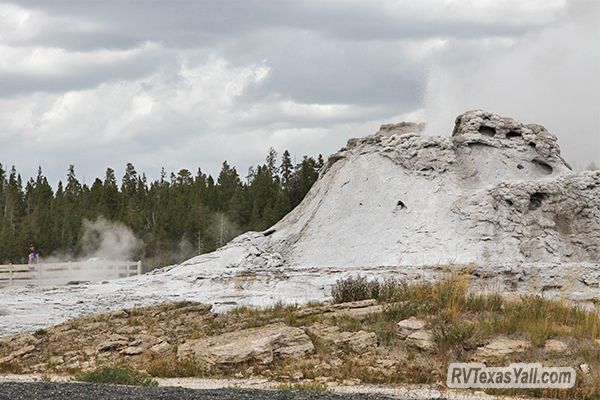 Castle Geyser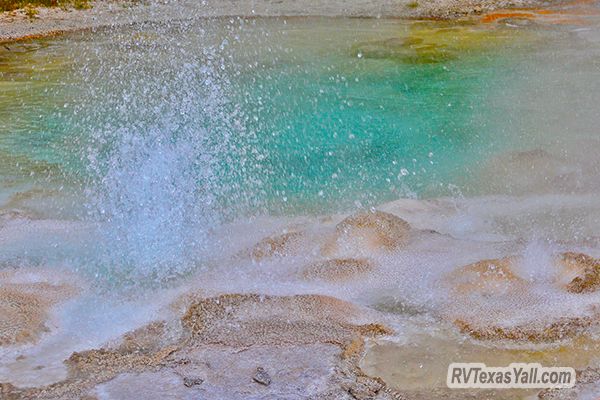 Spasmodic Geyser
Why Does Yellowstone Have Geysers?
Yellowstone National Park sits on the Yellowstone Supervolcano. In fact, most of the National Park is made up of volcanic calderas that were formed by massive volcanic eruptions as recently as 640,000 years ago.
The first Yellowstone supervolcano eruption is said to have occurred 2.1 Million years ago covering almost 600 cubic miles in ash. (Think Wyoming to Missouri!) Scientists believe that this eruption is one of the most powerful in history... 6,000 times more powerful than the Mount St Helens eruption of 1980.
The next major volcanic eruption occured at Yellowstone 1.3 Million years ago and affected 67 cubic miles.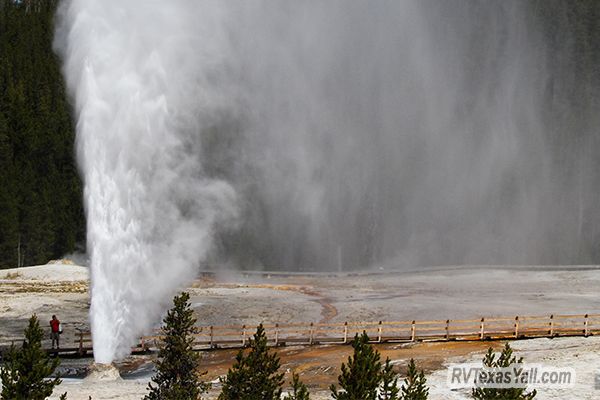 Beehive Geyser
The most recent major eruption affected 240 cubic miles 640,000 years ago. This eruption formed the current Yellowstone Caldera which is roughly outlined by the figure 8 loop that runs through the park.
Though it has been a very long time since any volcanic eruptions here, Yellowstone National Park still sits on a hotbed of hydrothermal activity. And yes, the Yellowstone Volcano is still active. But scientists do not believe that it will erupt in the next 1,000 years or more.
So what does this have to do with geysers? Geysers are just one of the hydrothermal features within Yellowstone that remain active due to the Yellowstone Volcano. The others are hot springs, mudpots, travertine terraces and fumaroles (steam vents).
To learn more about the hydrothermal features of Yellowstone National park, visit the Hydrothermal Features page on the park's website.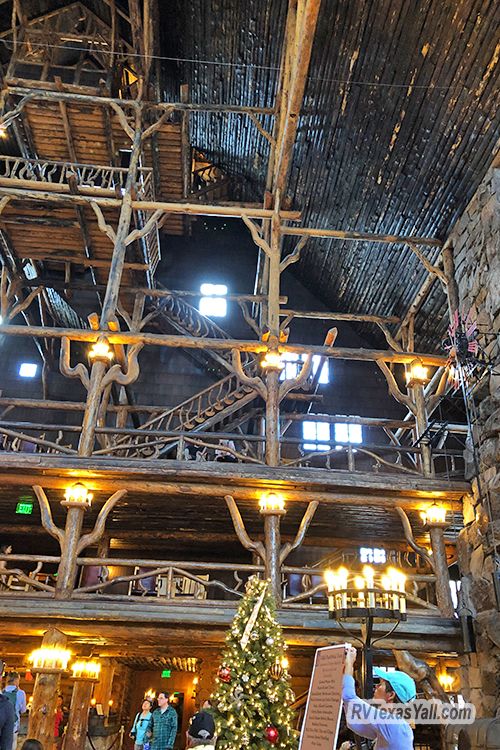 Inside Old Faithful Inn
Old Faithful Inn
One of three lodging options within the Old Faithful area of Yellowstone National Park, the historic Old Faithful Inn is worth a visit even if you are camping or staying somewhere else.
Built in 1904, the Old Faithful Inn will remind Disney fanatics like us of the Wilderness Lodge at Walt Disney World. And that's only fitting since the Old Faithful Inn was the inspiration for the design of the Wilderness Lodge (which also includes a geyser view).
This amazing hotel constructed of local lodge pole pines and rhyolite from Yellowstone's caldera was named a National Historic Landmark in 1987. It has survived earthquakes and fires.
The Old Faithful Inn began construction in 1903. Forty-eight men worked through the harsh winter to build the Inn. They lived in tents with woodburning stoves and brought in supplies and building materials with horses and sleighs. The horses wore corked horseshoes to improve traction.
The wrought iron was forged by a blacksmith on site. His grandson worked as a carpenter on Inn renovations over the winter of 1987-1988. Forged steel nails were handmade.
When it opened in 1904, the Old Faithful Inn had electric lights that were made to look like candlesticks. Interestingly, that electricity was created by a steam generator. The original hotel (now called the Old House) still has guest rooms with community bathrooms down the hall. The rooms which were added during later expansions are more modern.
Guided walking historical tours of the Old Faithful Inn are held every day from early May to early October. We absolutely LOVED this free tour! Definitely put it on your list of Must-Dos when you visit Yellowstone!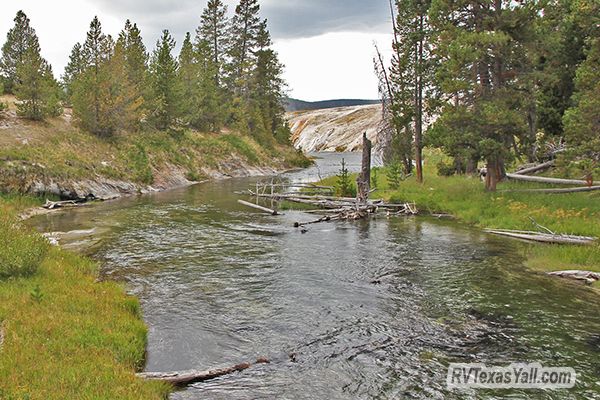 Firehole River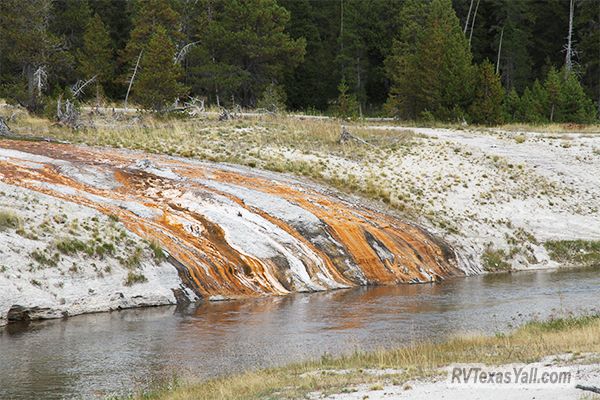 Amazing Colors
Campgrounds Near Old Faithful
There are no campgrounds specifically located in the Old Faithful area of Yellowstone. We stayed at the Grant Village Campground south of Old Faithful while we were there. (Watch for more info on that campground in episode 4 of this series.)
There is also camping available at the Madison Campground which is north of Old Faithful. Check out our Yellowstone National Park, Part 1 write-up for more information about the camping options within Yellowstone.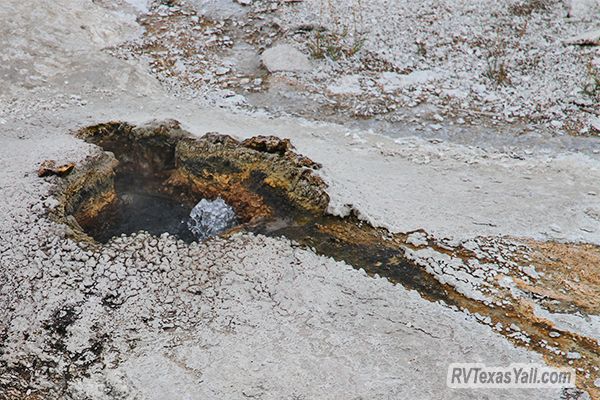 Geyser Bubbling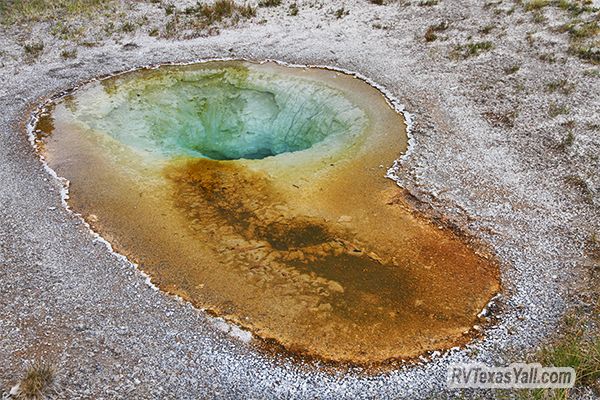 Belgian Pool
Upper Geyser Basin
The Upper Geyser Basin (also commonly referred to as the Old Faithful area), is home to the largest concentration of geysers in the world! Exploring the Upper Geyser Basin is easy as the entire trail is on a flat boardwalk. There are benches along the way to sit and watch the geysers. And believe us when we say, there are a lot of incredible geysers and hot springs in this area! Old Faithful is awesome, but it is NOT all about Old Faithful.
The Upper Geyser Basin is divided into 2 sections: the South Section and the North Section.
What to See in the South Section of the Upper Geyser Basin: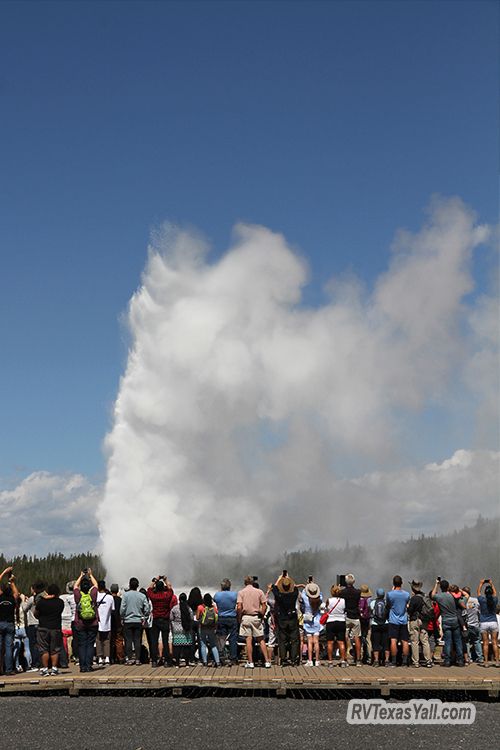 Old Faithful Eruption
Old Faithful Geyser
Eruptions typically occur every 60-110 minutes.
Reaches heights of 106 to 184 feet.
Giantess Geyser
Eruptions occur 2-6 times per year.
Reaches heights of 100 to 200 feet.
Doublet Pool
Produces vibrations due to collapsing gas and steam bubbles underground.
Solitary Geyser
Eruptions occur every 4-8 minutes.
Reaches heights of less than 6 feet.
Observation Point
Watch Old Faithful from 250 feet above.
Plume Geyser
Eruptions occur every 20 minutes or so.
Reaches heights of 25 feet.
Beehive Geyser
Eruptions occur 2 times per day.
Reaches heights of 130 to 190 feet.
Beehive is one of our favorite geysers!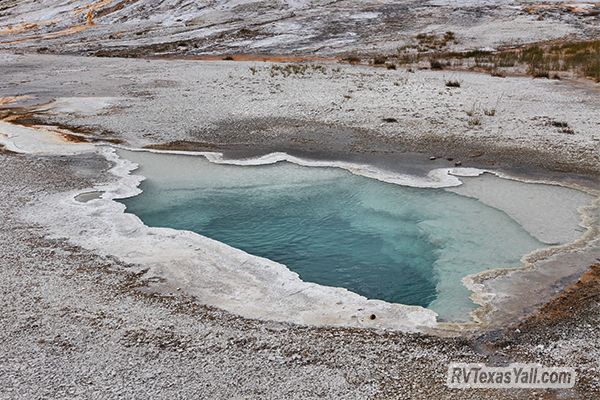 Heart Spring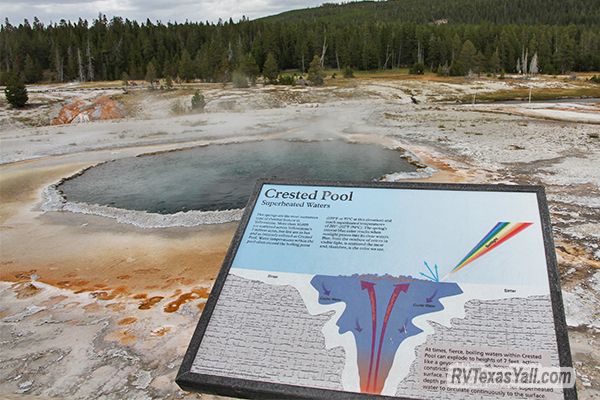 Crested Pool
Heart Spring
Surface size = 7.5 feet by 10 feet.
Named for it's resemblance to a human heart.
Lion Group of Geysers
Eruptions occur daily.
This group has 4 geysers that are connected underground.
Sawmill Geyser
Eruptions occur every 1-3 hours.
Named for it's similarity to a rotating saw blade.
Grand Geyser
Eruptions occur every 7-15 hours.
Reaches heights of 200 feet.
Grand Geyser is the tallest predictable geyser in the world!
Crested Pool
Contains water ranging from simmering to violent boiling.
Water may dome to 10 feet high.
Castle Geyser
Eruptions occur every 10-12 hours.
Reaches heights of 90 feet.
Many believe Castle Geyser may be the oldest geyser in the basin.
You can plan your exploration of the Upper Geyser Basin's South Section via Yellowstone's Interactive South Section Map.
What to See in the North Section of the Upper Geyser Basin: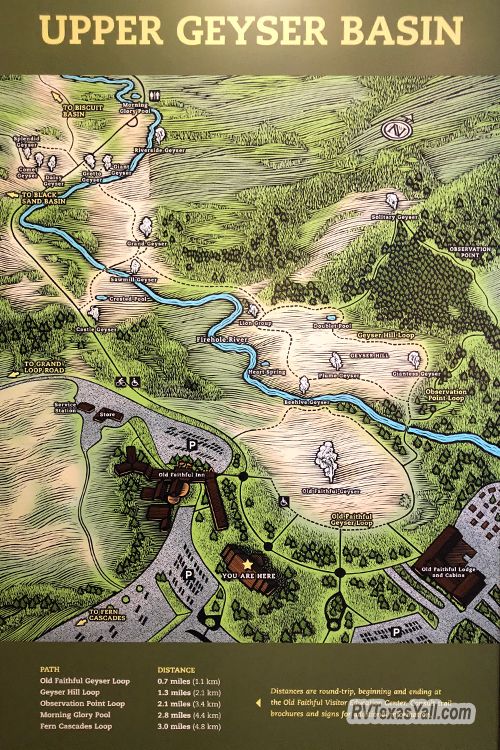 Upper Geyser Basin Map
Beauty Pool
Another one of our favorites.
It is one of the first of the larger pools that we discovered on this adventure.
Chromatic Spring
Shares water levels with Beauty Pool.
They trade off rising and falling.
Giant Geyser
Eruptions occur every 3-10 days.
Reaches heights of 180-250 feet.
Comet Geyser
Eruptions occur fairly constantly.
Reaches heights of less than 6 feet.
Splendid Geyser
Eruptions occur infrequently.
Reaches heights of over 200 feet.
If you're lucky enough to see it, this is one of the tallest geysers.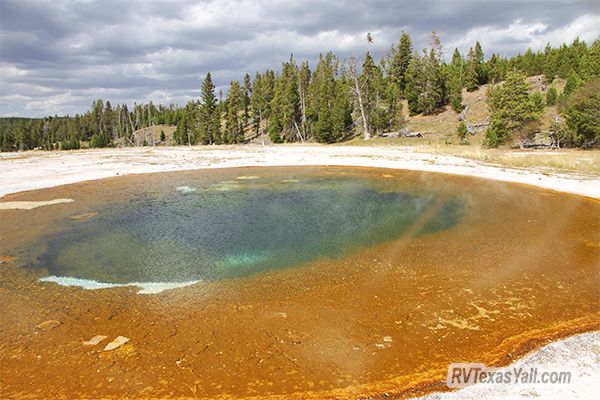 Beauty Pool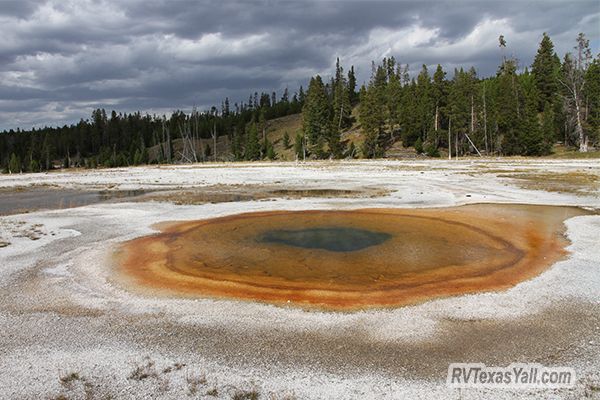 Chromatic Pool
Punch Bowl Spring
Intermittent boiling has raised this spring above the basin floor, giving it its name.
Daisy Geyser
Eruptions occur every 110-240 minutes.
Reaches heights of 75 feet.
Daisy is one of the most predictable geysers.
Grotto Geyser
Eruptions occur every 8 hours or so.
Reaches heights of 10 feet for anywhere from 1.5 to 10 hours.
Riverside Geyser
Eruptions occur every 5.5 to 6.5 hours.
Reaches heights of 75 feet.
Fan and Mortar Geysers
Eruptions occur anywhere from 1.5 days to months apart.
Fan Geyser reaches heights of 100-125 feet.
Mortar Geyser reaches heights of 40-80 feet.
Morning Glory Pool
Still a beautiful pool, Morning Glory has unfortunately been damaged by years of vandalism. So if you saw it years ago, it will look different now.
Biscuit Basin - Sapphire Pool
If you've come this far, you are now 3 miles from Old Faithful.
This pool was changed dramatically by an earthquake in the 1950s.
You can plan your exploration of the Upper Geyser Basin's North Section via Yellowstone's Interactive North Section Map.
Parking at Old Faithful
This is, by far, the easiest place to park within Yellowstone National Park. The parking lot at Old Faithful is HUGE! Any size rig can park here. The roads in and out of this section of the park are very easy to drive also.
While the Jeep was being worked on, we drove our motorhome to see Old Faithful (it was time to change campgrounds anyway). We had absolutely no problem with maneuvering in the area or parking here.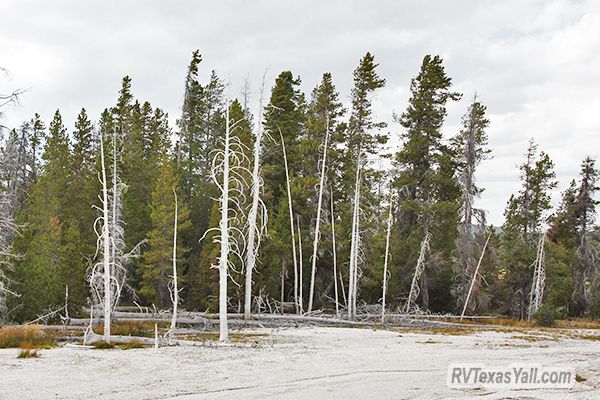 Changing Landscape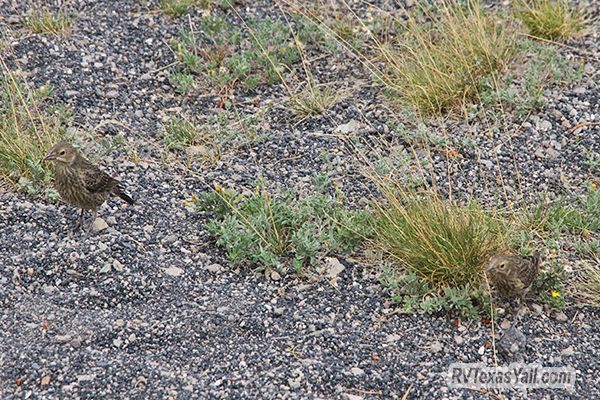 Little Birds
Hiking Near Old Faithful
Old Faithful is the starting point for the 3-mile round trip Upper Geyser Basin Loop. This is an accessible boardwalk style hike through a huge collection of geothermal features. There are benches located along the boardwalk to sit and watch some of the springs and geysers, or just rest your feet.
If you're up for a steep 1-mile hike, you can make your way up to Observation point to get a bird's eye view of Old Faithful and the Upper Geyser basin.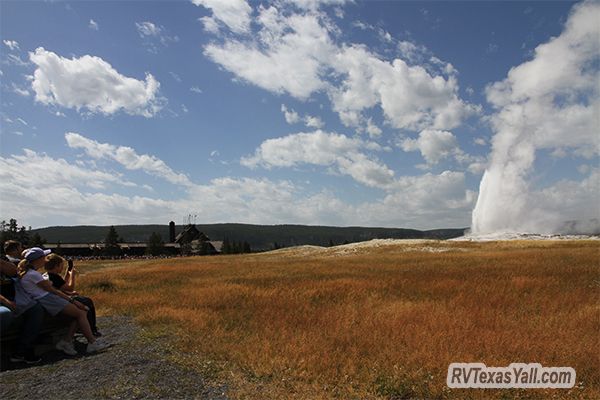 Watching Old Faithful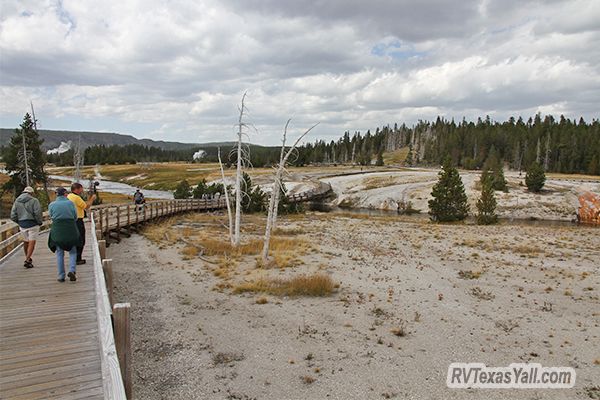 Upper Geyser Basin Boardwalk
Old Faithful Facts
Old Faithful can send anywhere from 3,700 to 8,400 gallons of water into the air during an eruption.
The water temperature of Old Faithful can reach 204 degrees.
The steam temperature of Old Faithful reaches 350 degrees!
Old Faithful's timing has changed over the years due to earthquakes.
There are almost 500 geysers within Yellowstone National Park (roughly 60% of the world's geysers).
The Upper Geyser Basin (home of Old Faithful) is home to the largest number of the park's geysers.
Tips for Visiting the Old Faithful Area of Yellowstone
The Yellowstone Art and Photography Center in the Old Faithful area is home to the Artist-in-Residence program. Be sure to stop in to see what is in progress. While we were there, we met artist Connie Brown who specializes in hand-drawn amazing maps. She was just beginning a map of Yellowstone while we were there.
There are a couple of good ice cream places in this area. We loved the ice cream inside the Old Faithful Inn Bear Paw Deli!
There are also several restaurants in the Old Faithful area. We really enjoyed the Old Faithful Lodge Cafeteria.
Do not miss the Old Faithful Visitor Center for interesting history on this area, hiking tips, geyser predictions and ranger programs.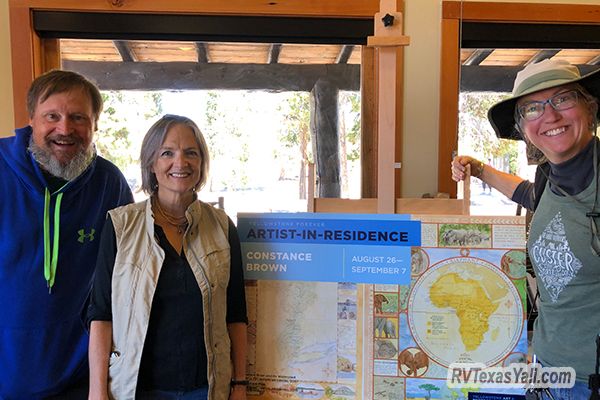 Meeting Artist Connie Brown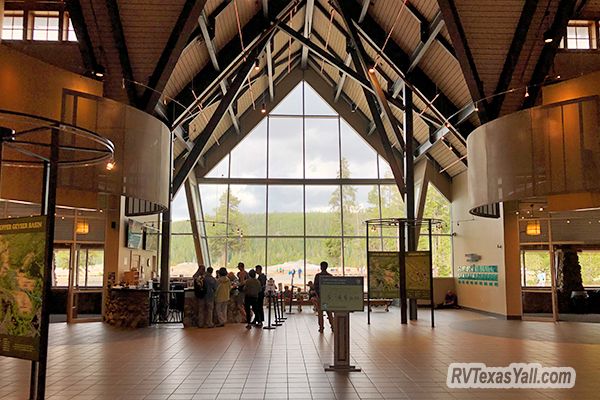 Old Faithful Visitor Center
More About Our Yellowstone Adventure
We had such an incredible experience at Yellowstone National Park, that we are writing four posts to share it all!
Be sure to check out:
Yellowstone National Park, Part 1 for info on the Bridge Bay Campground, Grand Canyon of the Yellowstone, Mammoth Hot Springs and more!
Yellowstone National Park, Part 3 covers amazing Grand Prismatic Spring, the West Thumb Geyser Area, the Great Divide, the Mud Volcano Area, Dragon's Mouth Spring, Gibbon Canyon and Falls, Norris Geyser Basin and Steamboat Basin.