Ledbetter, Texas - Central Texas Region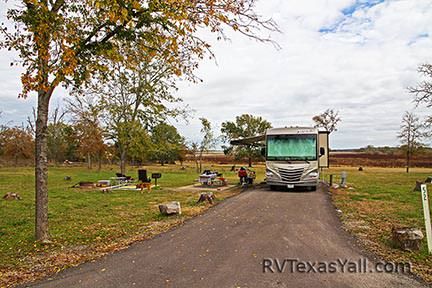 Our campsite at Nails Creek State Park
On the Southwest shore of Lake Somerville, between Houston and Austin, lies Nails Creek State Park. More specifically, this is the Nails Creek Unit of Lake Somerville State Park. (The Birch Creek Unit is across the lake.) Before we tell you about our stay, we have a CRITICAL piece of advice: Do NOT use the Latitude/Longitude coordinates provided by Texas Parks and Wildlife to get to this park. Our GPS took us to the posted coordinates (and yes, I triple checked them)...and we ended up at Birch Creek on the opposite side of the lake. The two parks are accessible to one another via a 30-minute shortcut. But unfortunately for RVers, this trek includes several miles on County Road 132 also known as "hemorrhoid road"! To say this road is in bad shape is the understatement of the century! Before giving us directions to Nails Creek, the ranger at Birch Creek asked how big our rig was and if we were towing anything. You absolutely do NOT want to tow anything on CR 132! As we drove it, we were jostled about so badly that we felt like the entire contents of every cabinet would be in the middle of the rig by the time we reached our destination. Somehow we survived the trek with everything in place. But it's a road we will avoid in the future. For the best way to get there from where you are, take a look at the directions on the Texas Parks and Wildlife Lake Somerville website or call the park office at 979.289.2392.
OK... so now to the fun part! This was our first trip to Nails Creek State Park. We tent camped at the sister park, Birch Creek, years ago, but had not been to this side of Lake Somerville. This area has been hit pretty hard by the drought of the last several years. They have lost many trees in the Cedar Creek Camping Loop and the boat ramp was closed during our visit. While our site was designed to be near the lake, in reality we could see water about a half a mile away. Park hosts told us that that the water was even further away prior to the rains we received at the end of October. So hopefully, we'll continue to pull out of the drought and the water levels will return to normal soon. (UPDATE: The drought has ended in this region of Texas! On the contrary, the Lake Somerville area received too much rain in 2015 and 2016.)
Even without access to the water, we had a great time at Nails Creek! The geocaching here is a lot of fun, with some very cleverly hidden caches. We also enjoyed bird watching, mountain biking and hiking during our stay.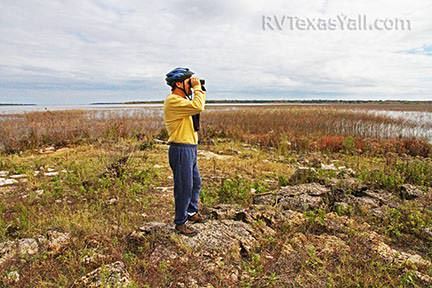 Birding at Rocky Point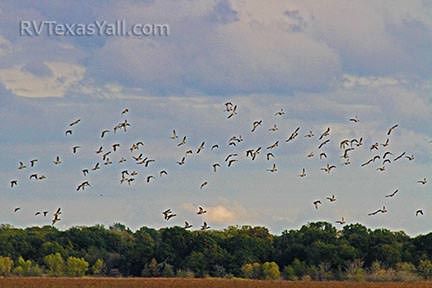 Lots of Birds Here
We were here for 3 nights beginning right after Thanksgiving. Even though we explored for many hours during our stay, there is still a lot we did not get around to. We definitely want to come back to explore the Somerville Trailway, a 13 mile trail that connects Nails Creek to Birch Creek. It looks like there are interesting geocaches hidden along the trailway. We'd also like to check out Flag Pond, known as a migrating bird habitat on the Trailway.
Nails Creek State Park is made up of 3,155 acres on the southwest shore of the Lake Somerville Reservoir. The reservoir was built by the US Army Corps of Engineers during the 1960s. At it's typical water level, it has 85 miles of shoreline. The state park opened to the public in 1970.
This park features approximately 4.5 miles of trails near the camping areas, plus the 13 miles Lake Somerville Trailway that connects to Birch Creek, and an additional 14.5 miles of trails that attach to the Trailway!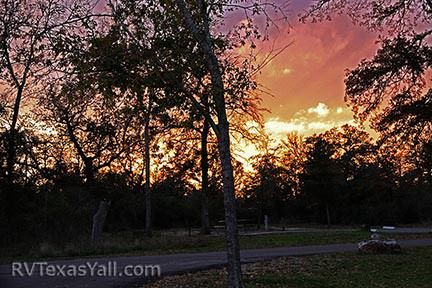 Beautiful Sunset Views From Our Site
The wildlife we saw here includes cardinals, woodpeckers and a variety of land-loving birds and waterfowl, deer, rabbits and a coyote. The lower water levels meant a lot of critter activity near our campsite. The deer, rabbits and birds spent a lot of time in the "lake" area right behind us!
Our favorite activity during our stay here was mountain biking. We are far from experts, so Nails Creek is a good fit for us. This is a fairly easy park to bike in. Most of the trails are wide and flat and there are not a lot of significant changes in elevation. For us, biking was a fun way to explore this park.
When water levels cooperate, the park offers canoe and kayak rentals, and participates in the Tackle Loaner Program. Remember, you do not need a fishing license to fish in Texas State Parks! Even if you have trouble accessing the lake, there is a Family Fishing Pond right next to the Cedar Creek Camping Area.
Horseback riding is allowed on some of the trails as well as on the Somerville Trailway. BYOH (Bring Your Own Horse). Equestrian campsites are available in the Bent Tree Camping Loop.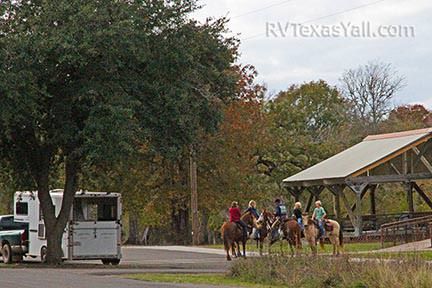 Equestrians Ready for the Trails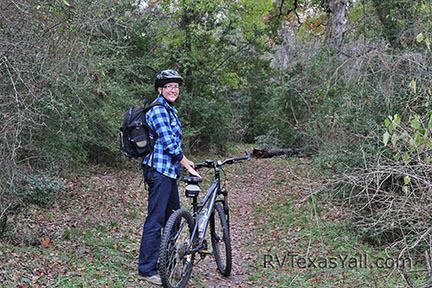 We Traveled Via Our Own Horse Power
Other campsite options include Hike-In Primitive sites on the Somerville Trailway. Walk-In campsites, and Electricity and Water sites. There are no full hook-up sites here (unless you are a park host). But we found the sites to be spacious and level. Our 29 foot rig fit into our site with PLENTY of room to spare! (Don't believe us? Take a closer look at the picture of our campsite near the top of this story. I snapped the picture from the point where our RV pad met the street!) The entire park (including the restrooms) was spotless during our stay.
Before we forget, we'd like to give a shout out to some of the nice folks we met during our stay at Nails Creek: our "next door neighbors" for the weekend, Bob and Gayla Land from Houston (thanks again for the extra firewood!), and our park hosts, David and Connie Slatter from San Antonio. We always have a great time meeting people on the road. RVers and campers are always friendly... probably because they're relaxed! :)
You can find more information on the Nails Creek Unit on Texas Parks and Wildlife's Lake Somerville State Park & Trailway page. The address is 6280 FM 180, Ledbetter, TX 78946. From US 290, go North from Burton (coming from the east) or North from Giddings (coming from the west). Like we said before, don't trust your GPS on this one! If you have ANY questions, call the park office: 979.289.2392.
ALSO IN THE AREA: More Campgrounds in Central Texas
IF YOU LIKE THIS POST, CHECK OUT: Our Other Texas Campground Write-Ups
Subscribe To Our Newsletter to stay connected and receive an email with our latest posts and updates!
Tell Us What You Think! Alrighty you've heard what we think, now we want to hear about your experiences. Please share your pictures and comments in the RV Texas Y'all Community on Facebook or in the RV Texas Y'all Community on RVillage. Not a member of one of our communities yet? We'd love for you to participate! And, of course, they are absolutely FREE! Join us to share your experiences and interact with others folks in the RV Texas Y'all communities. Want more info? Learn more about our Facebook Group!
Safe Travels and Happy Camping!