Top Reasons to RV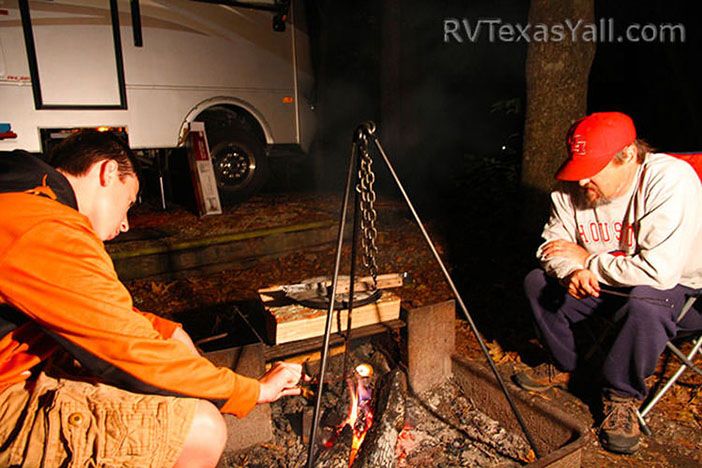 Ask any RVer why they RV and you're likely to get a long answer. There are so many reasons why folks love to travel with their recreational vehicles that you would be scrolling down the page forever if we tried to list them all here. So, we've tried to narrow the list a bit for you. Here are a few of our favorite reasons to RV...
There is something for everyone.
From pop-up campers to tag axle diesel pushers, RVs come in all sizes and price ranges. And the great part is, you don't have to spend a lot of money to RV. It's an incredibly affordable way to vacation with the family.
Pets are welcomed.
Why leave Fido and Fluffy at home with the neighbors or pay boarding fees? Most RV campgrounds and resorts welcome pets. And walking your dog around the campground is a great way to get some exercise, enjoy the scenery and meet other RVers.
You can escape crazy travel fees.
Think about all of the extra fees you normally pay when you travel... airline baggage fees, rental car mileage fees, hotel resort fees... we can't believe some of the things they charge for these days! You'll never be charged an "extra towel fee" when you travel in your own RV. [
Read more...
]
The stars at night really are big and bright!
But you don't always see them from your house. There's nothing like sitting outside and really seeing the Milky Way. Our guess is most folks have never seen it, and it is truly amazing.
Your Personal RV is a "No Bed Bug Zone".
It seems that every year we all hear stories about hotel cleanliness questions or bed bug encounters. The best way to avoid the pesky little critters is not to get around them. In your RV you know who has slept in your bed and that it is definitely bed bug free. [
Read More...
]
RVing is great for your health!
The RV lifestyle is all about getting outside and enjoying your environment. When we are camping, we cook all of our meals (so we eat healthier) and we are more physically active. We hike, bike, geocache, kayak. We are relaxed and stress-free when we are camping in our RV.
You can camp comfortably in an RV year round.
One weekend we were out camping when a terrible thunderstorm blew in bringing hours of pounding rain and high winds. The next morning, the tent campers had all packed up after "surviving a long night". But the RVers slept dry and worry-free. We have A/C when it's hot, a heater when it's cold, a solid roof over our heads and we're up off the ground, so we don't have to worry as much about weather. In fact, we've gotten some great campsites at the last minute when other folks have cancelled reservations because of weather forecasts (and usually the weather turns out just fine)!
You can have a lake house, a beach house, a house in the hill country... all in one!
An RV is a house on wheels. So with an RV your "home" is where ever you park it. You don't have to mow the grass or worry about commuting to and from your destination. Your vacation begins as soon as your wheels start rolling and the scenery always changes!