RV Classification: Class A Diesel Pusher
Y'all know we love Class A diesel pusher motorhomes. And we love it even more when we find a nice Class A diesel motorhome that is 35 feet long or shorter. And that is what we have found with the all new Nautica 33TL by Holiday Rambler.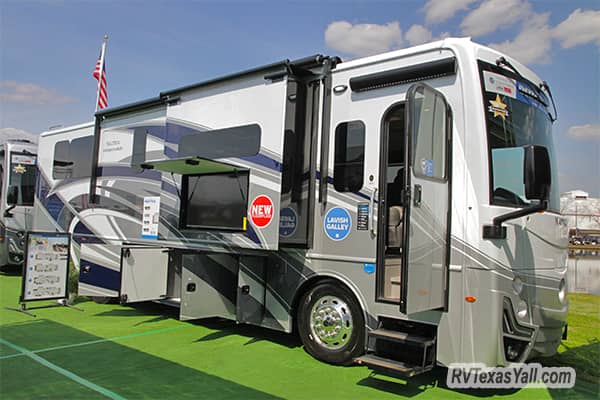 The All New Holiday Rambler Nautica 33TL
The Nautica brand is an all new diesel pusher line of Class A motorhomes from Holiday Rambler. Lengths range from 35 feet to 38 feet across 4 floorplans. We are excited to see more RV manufacturers embracing smaller Class A motorhomes. And while 35-38 feet in length isn't really small by RV standards, those lengths will definitely give folks more campsite options than their bigger diesel motorhome cousins (which are often between 40 and 45 feet long).
We first met Mike Grove Jr of Holiday Rambler a few weeks ago at Topper's RVs just west of Houston. He was there to train the Topper's staff on the features of the new Nautica line. Imagine our surprise to run into Mike again a few weeks later at the FMCA Rally in Perry, Georgia! We appreciate him taking the time to walk us through the Nautica 33TL...
Watch Our Full Walk Thru of a New 2021 Holiday Rambler Nautica 33TL
Video: New Class A Diesel Pusher | Holiday Rambler Nautica 33TL
What We Liked Most About the Holiday Rambler Nautica 33TL:
This new motorhome fits a lot of nice features into 35 feet. Here are some of the things that grabbed our attention:
First and foremost, the size! We are thrilled to find more 35 foot and shorter Class As coming to the market.
The "French" style doors in the primary basement storage compartment would make loading and unloading cargo much easier by giving you more space between doors.
The all-electric setup removes all propane from the coach.
The refrigerator is an 18.7 cu ft residential fridge, not a small one.
The 340HP Cummins engine would be plenty to move this rig along. (Our previous 35' rig only had a 300HP.)
10,000 pounds of towing capability opens up a lot of options for tow vehicles.
Freightliner builds a really nice chassis. And bonus points for being a raised rail chassis that gives more access to your basement storage.
Keyless entry means you don't always have to carry keys.
A stacked washer/dryer is available.
The 3 slideouts give you plenty of space inside while you're parked. And only one of those slides is on the camping side, meaning you lose less room under the 18' awning to slides.
It comes standard with an Aqua-Hot system instead of a traditional RV water heater.
The fresh, grey and black water tank compartments are all heated.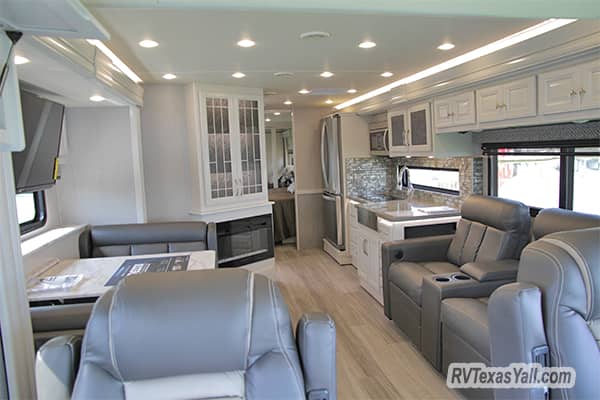 Inside the Holiday Rambler Nautica 33TL
Holiday Rambler Nautica Cockpit
What Else Really Stood Out to Us About the Holiday Rambler Nautica:
Other features we know folks will like...
This coach has 2 electric fireplaces... one in the living area and one in the bedroom.
A King Bed with CPAP storage is standard.
The light colors and large windows make it feel bigger.
The 84" (7 foot) tall interior makes this a nice option for taller folks.
All-electric means you have an induction cooktop.
The farmhouse kitchen sink comes with a faucet with a pullout sprayer.
The kitchen cabinets have adjustable shelves.
There is an option to replace BOTH 13.5K BTU air conditioners with 15K BTU air conditioners.
Multiplex Wiring, Auto Gen Start and an Energy Management System are standard.
Mobile Eye collision avoidance system, central vacuum system, power cord reel, and connectivity package are options.
The exterior TV and bluetooth entertainment system are standard features.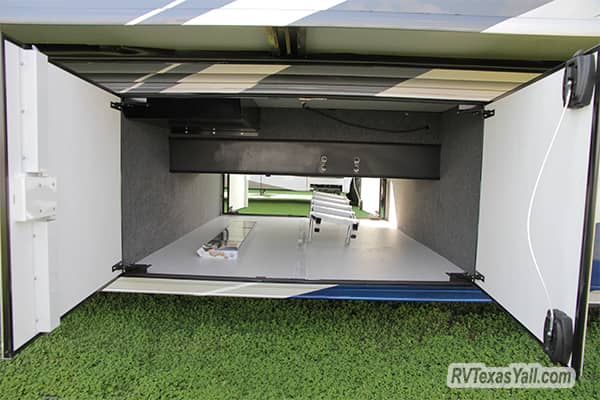 French Door Basement Bay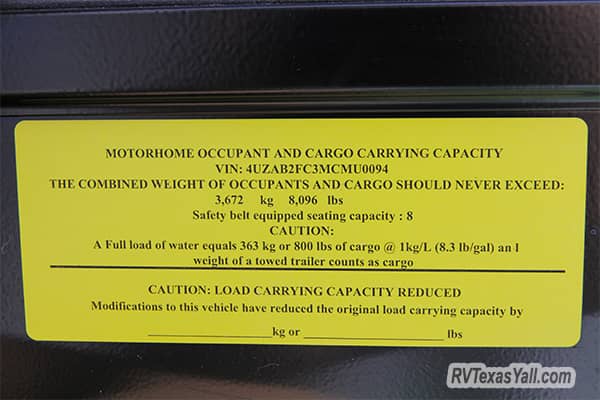 Weights Sticker
Holiday Rambler Nautica 33TL Specs:
according to the Holiday Rambler website at the time of this post
Length: 35'04"
Chassis: Freightliner XCR
Engine: Cummins ISB Turbocharged 6.7L, 340HP with 700 ft lbs Torque
Transmission: Allison 2500 MH 6-speed automatic with Electronic Shift Control
Gross Vehicle Weight Rating (GVWR): 32,400 pounds
Gross Combined Weight Rating (GCWR): 33,000 pounds
Hitch Rating: 10,000 pounds
Chassis Batteries: 2 12V Heavy-Duty
House Batteries: 4 6V Deep Cycle
Wheelbase: 206
Exterior Length: 35'4"
Exterior Width: 102"
Exterior Height: 12'10"
Interior Height: 84"
Interior Width: 96"
Interior Storage: 140 cu ft
Exterior (Basement) Storage: 135 cu ft
Fuel Capacity: 100 gallons
Fresh Water Tank: 96 gallons
Gray Water Tank: 65 gallons
Black Water Tank: 45 gallons
More Information on the Holiday Rambler Nautica:
For more details on the Nautica 33TL and to see their other floorplans, visit the Holiday Rambler Nautica website.
If you are in the Houston area, you can tour a Holiday Rambler Nautica in person at Topper's RVs. You can also call Topper's with any questions about the Nautica line. You can reach them at 936.372.1119. Great folks over at Topper's. Tell them we said Hi!
Thank you to Mike Grove Jr from Holiday Rambler for taking us on the tour of the new 33TL.
And if you'd like to hear our first impressions of the Nautica, we talk a bit about it in Episode 5 of our Podcast.