Bastrop, Texas - Central Texas Region
Posted: December 6, 2014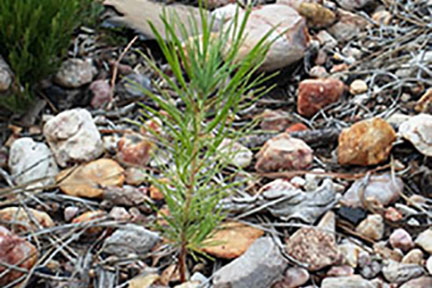 A Loblolly Pine Seedling
photo credit: Texas Parks & Wildlife
UPDATE December 18, 2015: We really enjoyed planting trees at Bastrop State Park. To see our write-up on this experience and how you can help in 2016, please see our post Help Reforest Bastrop and Buescher State Parks!
In September 2011, "the most destructive wildfire in state history" tore through Bastrop County, Texas. Drought conditions and high winds led to the burning of 32,000 acres, destroyed 1,600 homes and killed 2 people. The wildfire also burned through 96% of the 6,565 acres that make up Bastrop State Park.
Through the hard work of park staff and volunteers, most of Bastrop State Park was reopened to the public just prior to the park's 75th Anniversary on April 21, 2012. But restoration efforts continue today. And you can help!
We will be joining those efforts on Saturday, January 17, 2015 as we volunteer planting new trees at Bastrop State Park during one of their public workdays. We hope you can join us!
Each year during the winter months, the park hosts public tree planting days. The goal is to plant 500,000 new trees! The public workdays this season are December 14, 2014, January 17, 2015 and February 7, 2015. Workdays begin at 8am and continue until 12noon. As I write this, full-hookup campsites with 30 and 50 amp service are available at Bastrop State Park for that weekend. And additional campsites (30amp, water) are available at Buescher State Park (pronounced as "Bisher") right next door.
Please consider joining us as a volunteer on January 17th! For more information on the reforestation volunteer program or to sign up, please read this press release from Texas Parks and Wildlife. For even more information on how you can help, contact our friend, Ranger Mick Haven at 512.237.2241. We met Ranger Mick during our visit to Mission Tejas State Park back in 2013, and visited with him again during our visit to Buescher State Park in 2014. He is coordinating volunteer efforts in the restoration of Bastrop State Park.
Here are a few additional links you might be interested in:
Life After Wildfire: The Future of Bastrop State Park
Friends of the Lost Pines State Parks
And here's a video posted by Texas Parks and Wildlife during the fire in 2011...
Texas Parks and Wildlife Video of the 2011 Bastrop Wildfire
We hope to see you at Bastrop State Park in January 2015! If you do decide to sign up to help, please let us know. You can reach us on Facebook, Twitter, or Google+.
IF YOU LIKE THIS POST, CHECK OUT: Our Other Texas Campground Write-Ups
Subscribe To Our Newsletter to stay connected and receive an email with our latest posts and updates!
Tell Us What You Think! Alrighty you've heard what we think, now we want to hear about your experiences. Please share your pictures and comments in the RV Texas Y'all Community on Facebook or in the RV Texas Y'all Community on RVillage. Not a member of one of our communities yet? We'd love for you to participate! And, of course, they are absolutely FREE! Join us to share your experiences and interact with others folks in the RV Texas Y'all communities. Want more info? Learn more about our Facebook Group!
Safe Travels and Happy Camping!