Bastrop, Texas - Central Texas Region
Updated: January 25, 2017
Help Reforest Bastrop and Buescher State Parks! #ReforestBastrop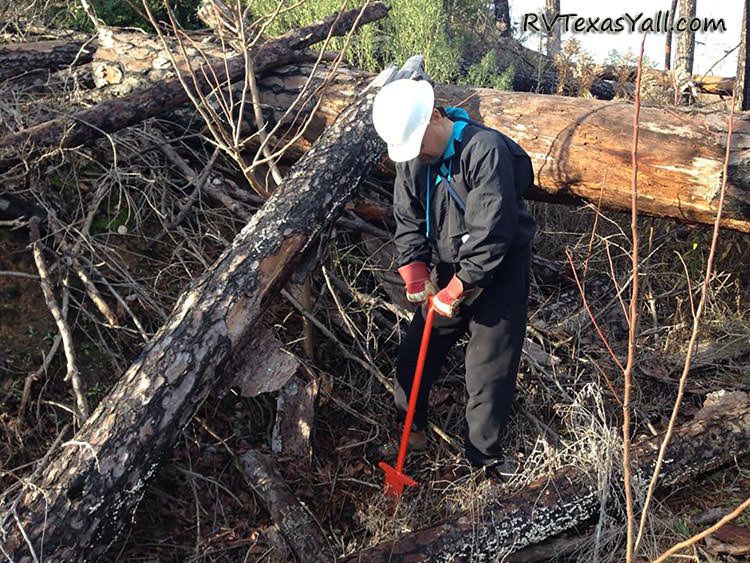 Planting Trees at Bastrop State Park
In December 2014, we wrote a blog post asking for folks to join us in volunteering to reforest Bastrop State Park. That post (Help Reforest Bastrop State Park) began with...
"In September 2011, "the most destructive wildfire in state history" tore through Bastrop County, Texas. Drought conditions and high winds led to the burning of 32,000 acres, destroyed 1,600 homes and killed 2 people. The wildfire also burned through 96% of the 6,565 acres that make up Bastrop State Park."
When we learned that Texas Parks and Wildlife was looking for volunteers to help with tree planting efforts, we jumped right in. We had a great time planting trees at Bastrop State Park in January 2015 along with our neighbors, Judy & Scott, and our fellow tree planters (shout out to Robert and Meagan from Austin!). Ranger Mick and the lead volunteers were very organized, the weather was perfect, and we had fun participating with the rest of that day's tree-planting team. Together, we finished the day planting 1,824 loblolly pine saplings just across the road from the Copperas Creek Camping Area of Bastrop State Park! Although that is just a small portion of the estimated 600,000 trees that had been planted at that time since the 2011 fire, every sapling counts toward reforestation of this beautiful area of lost pines!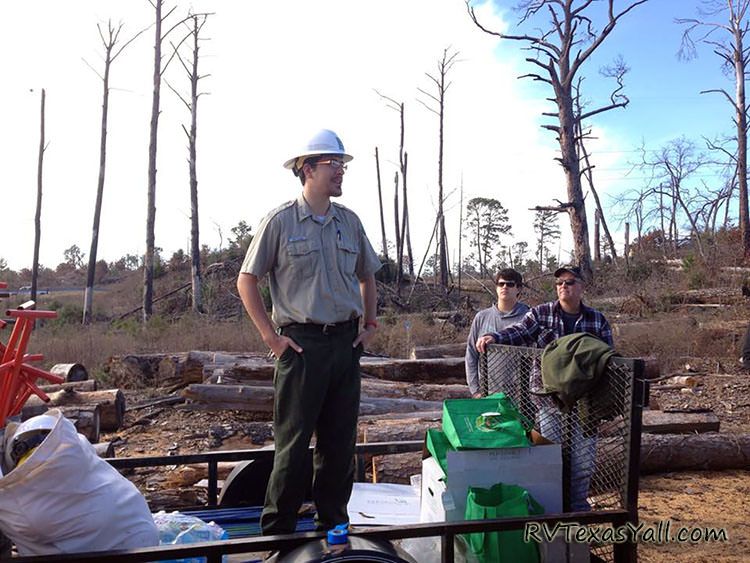 Ranger Mick Giving Instructions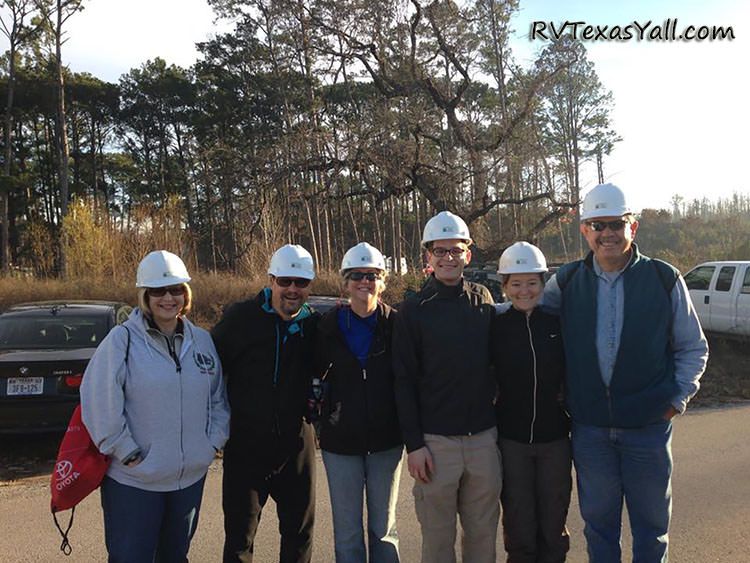 Our 2015 Tree Planting Team
While Bastrop was making solid progress in their reforestation efforts, the park was hit by a new disaster during the 2015 Memorial Day weekend, when large amounts of rain caused the dam on the lake inside Bastrop State Park to fail. Water rushed down Copperas Creek leaving a trail of debris.
And then in October 2015, yet another wildfire swept through the area. The Hidden Pines Fire burned 684 acres of state park land including more than half of Buescher State Park (pronounced "Bisher"), most of scenic Park Road 1C that connects Buescher and Bastrop State Parks, and part of Bastrop State Park which was recovering from the 2011 wildfire. More than 5 miles of trails were destroyed at Buescher State Park, and an estimated 143,000 trees were killed.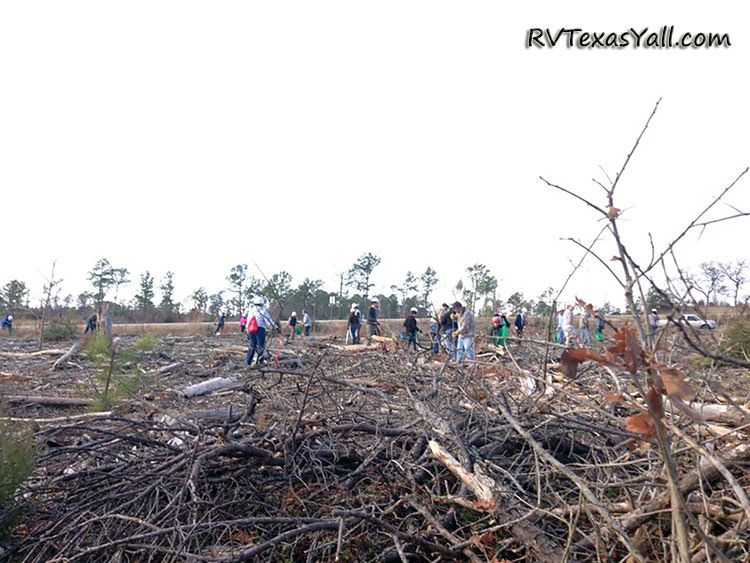 Planting Loblolly Pine Saplings in 2015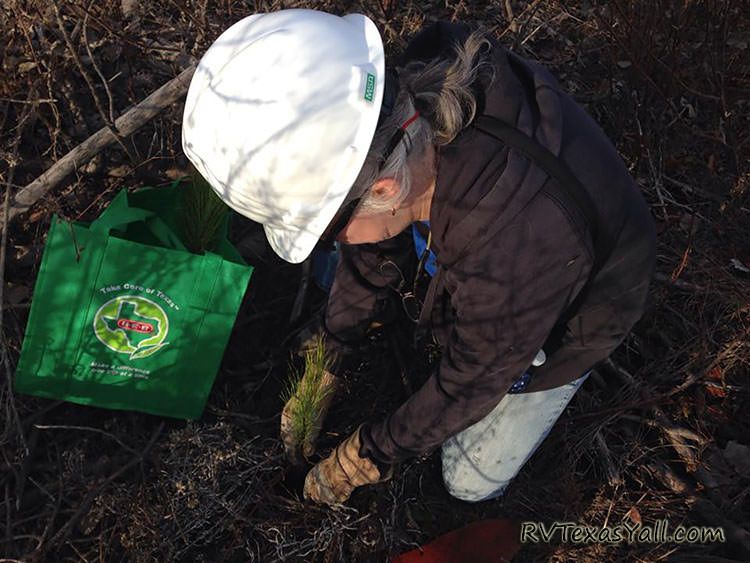 Reforesting Bastrop One Tree at a Time
The trees in Bastrop and Buescher State Parks are unique. This is the "Lost Pines" region, named for the forest of Loblolly Pines that grow here, isolated by more than 100 miles from other trees of their kind. Texas Parks and Wildlife researchers believe that the Bastrop Area Lost Pines have been growing for over 18,000 years. They are believed to have been separated by the East Texas Pineywoods by ancient glaciers. These trees are the westernmost Loblolly Pine Trees in the United States. Both Bastrop and Buescher State Parks were constructed by the Civilian Conservation Corps (CCC).
After the 2011 wildfire, Bastrop State Park began hosting public tree planting days each winter. With the additional destruction caused by the Memorial Day floods and the Hidden Pines Fire of 2015, these work days become even more critical to the area's recovery. This will be the first year that folks will be planting saplings that have grown from seeds collected inside Bastrop State Park! The public workdays this season are January 16, 2016, January 24, 2016, January 30, 2016 and February 7, 2016. Workdays begin at 7:30am and continue until 12noon. As I write this, full-hookup campsites with 30 and 50 amp service are available at Bastrop State Park for that weekend. And additional campsites (30amp, water) are available at Buescher State Park (pronounced as "Bisher") right next door.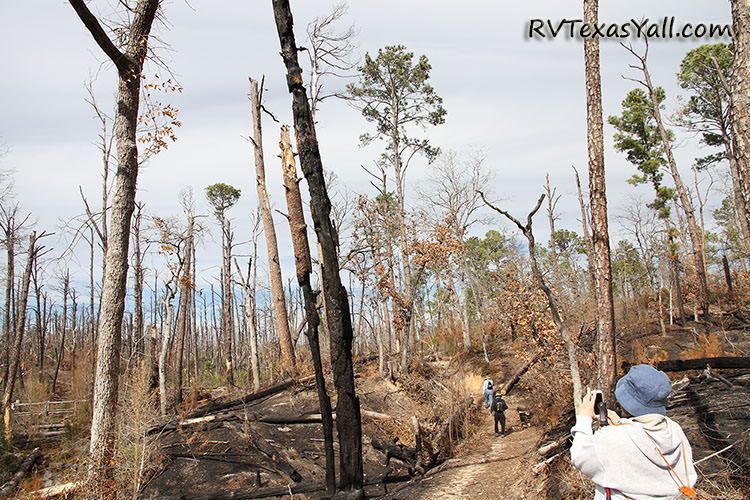 Hiking the Trails at Bastrop State Park 2015
We, along with our friends Scott and Judy, will be returning to plant trees again this year. We hope that you will join us in volunteering to help reforest Bastrop and Buescher State Parks! We will be there for the January 16, 2016 planting. For more information on reforestation projects here or to sign up to help on one of the 2016 public workdays, please visit the Bastrop State Park page on VolunteerMatch.org.
We really did have a phenomenal time planting loblolly saplings last year, and we highly recommend this volunteering opportunity. If you decide to sign up to help, please let us know. You can reach us on Facebook, Twitter, or Google+, or leave a comment below! Thanks!!
UPDATE JANUARY 5, 2017: We will be returning to Bastrop State Park again during the weekend of January 13, 2017 to plant trees for our third straight year! This is the fifth and final year of the volunteer reforestation program at Bastrop and Buescher State Parks. If you read this post by early February 2017, you can still participate! Visit their Volunteer Match page for all of the 2017 dates!
UPDATE JANUARY 25, 2017:If you'd like to see exactly what we do during tree planting days, watch our video at the top of this post. Thank you to Ranger Kristen, the staff and volunteers at Bastrop and Buescher State Parks for all that they do to aid the area in its wildfire recovery. If you are reading this in January or early February 2017, you still have time to volunteer this year! It also sounds like the park may extend the tree planting project into 2018. We'll keep you posted as we hear updates. To sign up to help, remember to visit Bastrop State Park's Volunteer Match page (the link is in the paragraphs above). You can also help by donating to the Friends of the Lost Pines State Parks. Thank you for your assistance in the effort to #ReforestBastrop!
IF YOU LIKE THIS POST, CHECK OUT: Our Other Texas Campground Write-Ups
Subscribe To Our Newsletter to stay connected and receive an email with our latest posts and updates!
Tell Us What You Think! Alrighty you've heard what we think, now we want to hear about your experiences. Please share your pictures and comments in the RV Texas Y'all Community on Facebook or in the RV Texas Y'all Community on RVillage. Not a member of one of our communities yet? We'd love for you to participate! And, of course, they are absolutely FREE! Join us to share your experiences and interact with others folks in the RV Texas Y'all communities. Want more info? Learn more about our Facebook Group!
Safe Travels and Happy Camping!