Thank You For Joining Us On This Journey!
This giveaway is closed.
Congratulations to our Winners!
If you are not already signed up to receive our monthly newsletter and you would like to join our list, please visit Our Newsletter Sign Up Page! We do not sell our list, and promise not to bombard you with emails. If you'd like to see our previous newsletters to get an idea of what type of content we include each month, please visit our Newsletter Archives page.
Video: Thank You and Giveaway!!
When we launched RVTexasYall.com back in 2013, our goal was to encourage folks to get out and explore all of the fun things that the great State of Texas has to offer. Over the years, it has grown into a resource for RVers and a Texas travel guide. As our website began to grow, we launched pages on Facebook, Twitter, Instagram, Pinterest, Google+ and video channels on YouTube and IGTV. And along the way something unexpected happened... we discovered our community!! Y'all know that one of our favorite things about RVing is the relationships, the conversations, the people we meet. RVers are awesome folks! We want you to know how much we appreciate you being a part of this journey. Thank you.
Whether you are connected to us via our YouTube Channel, our Instagram Page / IGTV Channel, our Facebook Page, our Facebook Group, or on Twitter, we always look forward to reading your comments, seeing your pictures and hearing about your travels. Your interaction with us online and in person is what motivates us to create more content and continue to develop RVTexasYall.com.
In celebration of our growing community, the folks at KING have sent us 2 of their digital antennas to give away! We appreciate KING's support of our celebration. Please check them out on Facebook, Twitter, or Instagram and joining us in "Liking" them as a way to say Thank You for their generosity.
Now... on to what you're here for...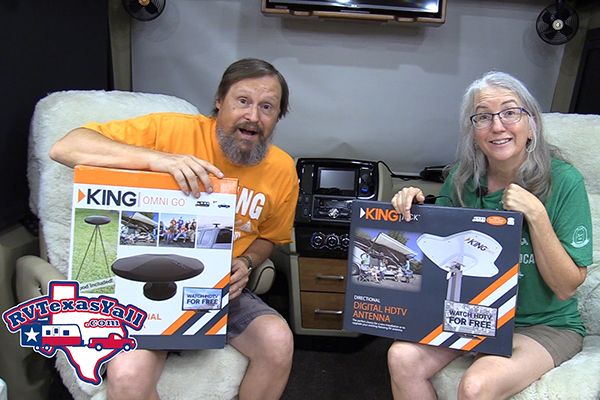 Thank You for Being Part of Our Journey!
How Can I Enter to Win a KING Antenna For My RV?
We're so glad you asked! Thanks to KING, we are giving away 2 brand new antennas: we have one KING Jack Directional HDTV Antenna that replaces the batwing antenna on the roof of an RV, and we have one KING Omni Go Portable OmniDirectional HDTV Antenna that sits outside of your RV or truck and connects directly into a TV. Perfect for tailgating!
Decide which one of these antennas you are interested in and enter to win using the appropriate form below. (We want to share the love, so only one winner per household.) When you enter to win, you will be signing up to receive our Newsletter. We do not sell our list or share it with anyone. We also promise not to bombard your inbox. If you would like to see our previous newsletters, please visit our Newsletter Archives page.
What If I Already Subscribe to the Newsletter? Can I Still Win?
Thank you for being a big part of our community! And of course you can! However, we understand that not everyone in our email list is interested in winning one of these antennas, so we need to know that you would like to enter your name in the drawing. Please fill out one of the entry forms below.
You will receive a new Welcome email, but you will still only receive one copy of our Newsletter. By completing one of the entry forms on this page, we will know that you are interested in winning one of the KING antennas.
How Long Does the Giveaway Run?
We want to make sure that everyone who is interested has a chance to enter, and we realize that this is summer so a lot of folks are traveling. So, we will accept entries until 10pm CST on August 31, 2018. We will then export each list into Excel and let Excel assign random numbers to each entry. The entry with the highest random number within each list will win. We will announce the winners in a video on our IGTV channel on September 1, 2018 as well as in our September Newsletter which will go out that weekend.
The winners will also receive an email from us notifying them and asking for their mailing address so we can ship them their antenna.
Who is Eligible to Win?
Please note, because of shipping costs, we can only mail to addresses within the 50 US States. We apologize to everyone else.
One More Important Note...
To protect our Newsletter subscribers from being signed up by someone without their permission, we use a confirmed opt-in system. This means that (if you are a new subscriber to our email list) after you complete one of the forms below you will receive an email from us asking you to confirm that you would like to be added to our Newsletter list. Please make sure that you confirm your subscription or you will not be added to our list or entered to win. After you have confirmed your subscription, you will receive a Welcome email from us and you will be good to go!
Thank You again for joining us on this journey! Good Luck in the Giveaway!!