Texas - Central, Hill Country, North, East, Gulf Coast, Panhandle & South Regions
Updated: May 29, 2015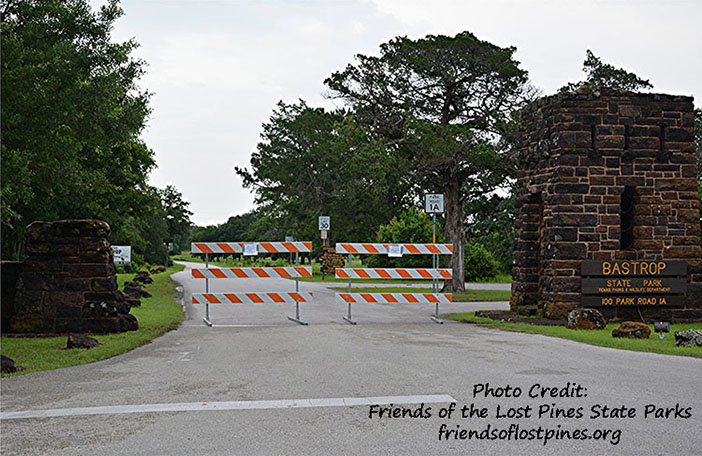 Bastrop State Park Suffered Significant Damage
photo credit: Friends of the Lost Pines State Parks
Following a drought that has hung over much of Texas since 2010, the entire state has seen significant rainfall during May 2015. In fact, many counties are seeing record rainfall for May. The upside is that all of the water is recharging our aquifers and filling our lakes. The downside is the destruction that is accompanying the flooding. Our hearts go out to everyone who has lost loved ones, pets and property to the storms.
Among the affected areas are many of our state parks, corps of engineer parks, and a few rv parks. Some of these have been significantly impacted, others face only very minor challenges. We have been monitoring their statuses via social media, and have decided to make one list here. Hopefully, this will make it easy for everyone to keep track.
To our knowledge, these are the parks that have been impacted in some way. Please visit the parks' websites directly for current updates and details. Texas Parks and Wildlife has also set up a page on their website showing the current status of all of the state parks. If you would like to assist in the recovery of the damaged parks, please contact the park or their Friends' group.
Texas Panhandle Region:
Palo Duro Canyon State Park
North Texas Region:
Ray Roberts Lake State Park (both Isle du Bois and Johnson Branch units)
Bear Creek COE Campground
Hickory Creek COE Campground
Holiday Park COE Campground
Juniper Point COE Campground (East unit)
Preston Bend COE Campground
Cedar Hill State Park
Cleburne State Park
Cooper Lake State Park
Dinosaur Valley State Park
Eisenhower State Park
Lake Arrowhead State Park
Texas Hill Country Region:
Blanco State Park
Colorado Bend State Park
Guadalupe River State Park
South Llano River State Park
Pedernales Falls State Park
Cranes Mill Park COE Campground
Potters Creek Park COE Campground
Willis Creek COE Campground
Pecan Park Riverside RV and Cabins
Garner State Park
McKinney Falls State Park
Central Texas Region:
Bastrop State Park
Lake Somerville State Park (both Birch Creek and Nails Creek units)
Palmetto State Park
Stephen F Austin State Park
Lake Whitney State Park
Rocky Creek COE Park
Leisure Resort RV Park
Lockhart State Park
Meridian State Park
Mother Neff State Park
Buescher State Park
Yegua Creek COE Campground
Cedron Creek COE Campground
Kimball Bend COE Campground
Lofers Bend East COE Campground
Lofers Bend West COE Campground
McCown Valley COE Campground
Plowman Creek COE Campground
East Texas Region:
Martin Creek Lake State Park
Ratcliff Lake Recreation Area
Caddo Lake State Park
Purtis Creek State Park
Ebenezer COE Park
Hanks Creek COE Park
Mills Creek COE Park
San Augustine COE Park
South Texas Region:
Goliad State Park
Texas Gulf Coast Region:
Brazos Bend State Park
Mustang Island State Park
If you know of any parks that we have missed, let us know. You can reach us on Facebook, Twitter, or Google+. Stay safe out there folks!